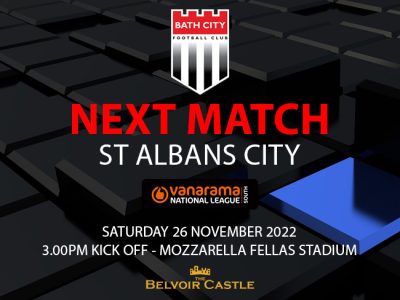 Next Match – St Albans City – Away
Following their emotional victory at Billericay in the FA Trophy, City return to league action on Saturday when they travel to St Albans City.
They should start the game in a confident mood as they are on a seven match unbeaten run away from home and another win will see them overtake their sixth placed opponents.
Like City, the Hertfordshire club are enjoying more success on the road so far this season, winning six of their ten fixtures. At Clarence Park it has been a very different story with only lowly Concord and Weymouth suffering defeat. The first four matches did not see a single home goal and only seven have been registered in the following five.
This poor home form prevented any success in the FA Cup, which had seen The Saints reach the second round last season. This time, Isthmian League Sudbury managed to draw there in the Second Qualifying Round and then won the replay back in Suffolk. And any hopes of a long Trophy run ended at the first hurdle with defeat at home to Kidderminster Harriers last Saturday.
This inconsistent start to the season saw the recent departure of long serving manager Ian Allinson who has since become general manager at Hendon. His team were one of those tipped for promotion last season but a tendency to drop points at home against lower league sides and struggles on the road when facing higher placed sides counted against them. Always with a chance to make the playoffs, their season tailed off from March onwards and they fell short of the top seven.
However, Shaun Jeffers, their prolific striker with 27 goals last season, continues to be a threat and has so far netted eleven in the league, the same total as Cody Cooke's. So City will be wise not to underestimate their opponents who grabbed all six points in the two encounters last season.
St Albans showed their pedigree in a 2-0 win at Twerton in October while players and supporters will remember the February return at Clarence Park mainly for the wrong reasons in a dramatic encounter. Two early strikes for The Saints, including an own goal, were cancelled out by Cody Cooke and Alex Fletcher, all before half time. Just when it looked like the points would be shared following a hard fought second period, City won a penalty in the 86th minute. However the usually reliable Cooke missed the target and then saw his team lose to a bizarre goal from a rebound seconds before the final whistle.
This will be City's eleventh visit to Clarence Park since the first in 2008 and they have a fine record there with six wins, including four in the last six fixtures. The most recent was in October 2019 when a Tom Smith goal secured a 1-0 win.
The ground, which has a preservation order and is pleasantly located alongside the adjoining park and cricket ground, has a lot of character with almost as much terracing as at Twerton.
Tickets can be bought in advance from the St Albans website.
The city itself has many attractions, especially the abbey, the Roman remains of Verulamium and some excellent pubs including The Mermaid, a favourite of City supporters and only a ten minute walk away from the ground through Clarence Park.
The Supporters Club is running a coach and seats can be booked at its website. For those wishing to drive, the 125 mile trip from Bath will take around three hours. These are the only two options as yet more strike action means that the train is not an option from Bath Spa.