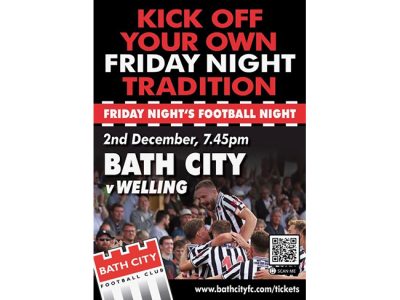 Friday Night Football – Save on tickets now
Save £1 on every ticket when you buy in advance for our exciting Friday night match against Welling United.
Our first game back at Twerton Park since Alex's injury will be a rare Friday night 7.45pm kick-off to avoid overlapping with the weekend's World Cup round-of-16 matches. It's a great chance for you and family or friends to enjoy an evening at the football without worrying about work or school the next day.
And you can save £1 on every ticket by purchasing online now.
We're hoping for a big turnout for this special evening and really look forward to seeing you back at Twerton Park.