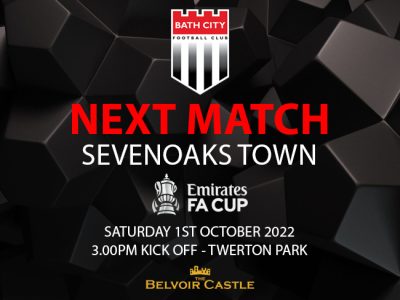 Next Match – Sevenoaks Town – Home
Following their hard-earned victory in the FA Cup over Hartley Wintney last week, City welcome another new opponent in Sevenoaks Town to Twerton Park on Saturday.
The visitors from Kent are located ten miles from our National League South rivals Tonbridge and play in the Isthmian South East Division. They currently lie in 17th position with four points after just five games played. The reason for such a low number is that Sevenoaks have been heavily involved in knock out matches and have already played in nine!
In the Cup, they have won through four rounds against Horley Town, Merstham, Kingstonian and Phoenix Sports. Those making the draws this season have certainly not been kind to Sevenoaks with Saturday's tie being the fourth occasion out of five they have had to travel! Last Saturday, they started on the FA Trophy trail with a victory on penalties over Hertford Town.
After the great fight put up by our lower level opponents in the previous round, it is very unlikely that City fans or players will be complacent going into Saturday's match. And anyone who is, should recall those matches with the likes of Thame, Harlow and Potters Bar who all knocked us out at this 3rd Qualifying Round of the competition. However, City have been more successful at this stage in recent years, beating Hemel Hempstead, Lewes, Slough and Frome.
Season ticket holders are reminded that it is all pay on Saturday and tickets can be bought in advance from the Club's website.