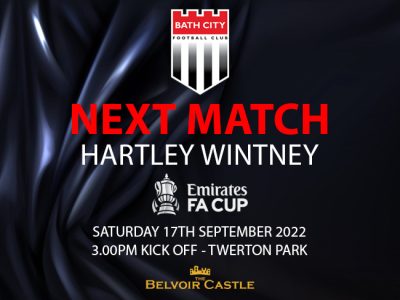 Next Match – Hartley Wintney – Home
Following the entertaining win against Weymouth, City welcome Hartley Wintney to Twerton Park on Saturday for what we hope will be the start of a long run in the FA Cup. The competition provides the opportunity to meet new opponents and, as with Shaftesbury twelve months ago, this will be the first time we have crossed paths with the Hampshire club.
The club are based in the large village of Hartley Wintney which lies eight miles west of Farnborough and are known as The Row after a hamlet where they were formed. They play in the Southern League Premier South and are currently in 19th place with four points from their six matches. Their one win was on the road at Salisbury but they have tasted defeat at both Chesham and Dorchester. In the first qualifying round of the Cup they won 4-0 at Hellenic League Roman Glass St George who are based in Bristol.
In recent years Hartley Wintney have had two notable runs to the 4th Qualifying Round in the Cup, winning through five rounds in 2013 before losing to Daventry and seven years later going down by just the single goal at National League Dagenham & Redbridge. By coincidence the Essex club were victors against City the last time we reached the 1st Round in 2011.
Our visitors on Saturday entered the FA Vase when they played in the Combined Counties League and in 2015/16 won through six rounds, including victory over our neighbours Bradford Town, before losing in the fifth to eventual finalists Hereford.
Although City's record in the competition has been rather modest for some years, they have been largely successful in the 2nd Qualifying Round, only being eliminated twice this century and the last of those was sixteen years ago. In fact 1983 was the last time that we were knocked out at this stage by opponents from one level below when we were eliminated at Twerton by Merthyr Tydfil.
But the memories of that day at Banbury just eleven months ago should prevent any complacency creeping in on Saturday when everyone connected with the Club will be hoping that this will be the start of the run which brings back memories of those glorious wins over the likes of Cardiff, Hereford and Grimsby.
Season ticket holders are reminded that this is an all pay match and tickets can be bought in advance from the City website.