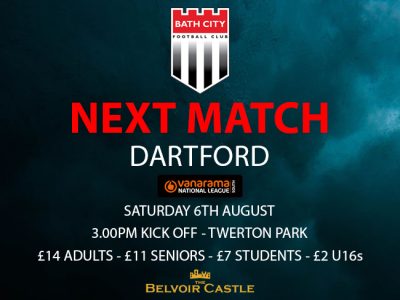 Next Match – Dartford – Home
City welcome old rivals and friends Dartford to Twerton Park on Saturday at the start of what we hope will be a very successful season.
One of the pre-season favourites for promotion, The Darts will provide a good early test for Jerry Gill's new look team.
And a new face will be in the visiting dugout as the Kent club appointed Alan Dowson, formerly boss at Hampton and Woking, to replace their previous manager Steve King early in the summer.
Last season they finished fourth, 13 points behind champions Maidstone, having fallen away after a superb start when they took 22 points from their opening eight matches and led the table for the first 15.
Drawn at home to Chippenham in the play off eliminator match they went out on penalties after a goalless draw.
City fans who saw the FA Trophy match against Dartford last November will have been surprised that only two penalties were converted against our neighbours as in the shootout at Twerton it seemed as if Ryan Clarke was facing five Germans!
They inflicted a league defeat two months earlier at Twerton, while maintaining their 100% start. Two down at half time, we fought back well courtesy of an Alex Fletcher goal but it proved to be only a consolation in a 3-1 loss.
Unfortunately those two reverses were par for the course in recent years as incredibly Dartford have only lost once in their last eight visits to Twerton.
The exception was a 3-0 win for City at Twerton in 2019 courtesy of goals from Tom Smith and Andy Watkins.
After Chippenham, Dartford are in fact our oldest opponents in this division with over 90 fixtures played in various competitions, the very first played way back in 1930.
The City romped home 7-0 and 6-0 in two encounters played around sixty years ago and we were probably seen as the Darts' bogey team in the 80s and 90s with City unbeaten in 13 matches.
So can City get off to a flyer against one of the division's strongest clubs? The Club are hoping that the excellent attendance figures of last season will be maintained and perhaps even bettered!
Match tickets can be bought online here.