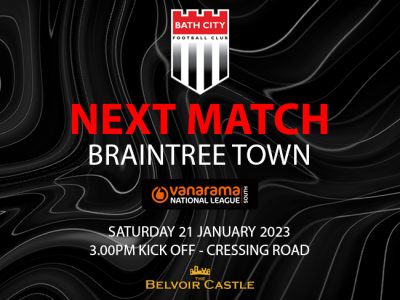 Next Match – Braintree Town – Away
With just the League (and Somerset Premier Cup) to concentrate on now, City make one of their longest trips of the season on Saturday when they travel to Braintree Town.
They share a very similar record to the Essex club, who presently sit in 9th position, with two more points and goals scored, while the totals conceded are identical. There the similarity ends as The Iron's top half place is very much based on their unbeaten home record; only bottom of the table Hungerford have lost more away games.
One of their eight defeats came at Twerton back in August when goals from Cody Cooke and Alex Fletcher enabled City to come from behind and secure a 3-1 win. Braintree then enjoyed a productive two months, collecting 25 points from eleven matches, which saw them climb into the play-off positions. However their only win in the last ten outings was against Hungerford and the last six home matches have seen five draws.
While their FA Cup run only lasted two rounds, wins over Brackley and Farnborough in the FA Trophy took them to National League Eastleigh last Saturday. In what was described as their best performance of the season, Steve Pitt's injury ravaged team only went down to an outstanding late strike.
This will be our eighth visit to Cressing Road, the first being in 2008. Honours are evenly balanced with the City winning three and suffering three defeats. The highlight was undoubtedly the 4-0 win we recorded in 2008 while the excellent goal scored ten years later by Jack Crompton was one of the best of recent seasons.
Last season's fixture took place in September when goals from Cooke and Fletcher (again), including two penalties awarded for handball, saw City come away with a 3-1 win. One interesting fact from that day sixteen months ago is that only six of the sixteen man squad still remain at the Club.
While the town of Braintree will not entice City supporters to get there early, its football ground is neat and compact, reflecting the fact that it hosted several seasons of football at the top level of the non league game. There is the opportunity to stand at the Quag End, as in quagmire, but the mud is no longer a feature after ground improvements! There is a good sized club house while the Orange Tree pub is just a few minutes' walk away.
Unfortunately there is insufficient interest for a Supporters Club coach to run so those wishing to make the 175 mile trip by road from Bath should note that it will take around 3.5 hours. The train journey from Bath Spa will take a similar time with changes at Paddington and Liverpool Street.
This is a match where the majority of City supporters in attendance tend to be those exiles living in the south east so a timely reminder that full commentary will be available on Bath City Radio.