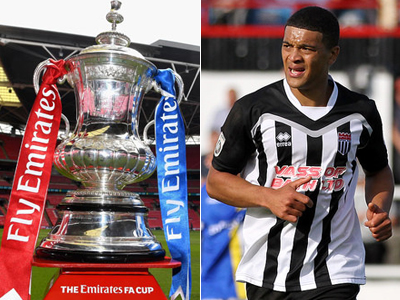 Nat Jarvis chosen to represent City at 2017/18 FA Cup Final
Bath City FC has been invited to take part in one of the most traditional parts of the Emirates FA Cup Final – the singing of Abide with Me. A total of 13 representatives from clubs from across the football pyramid will be involved, and will join professional singers from the RAF on the pitch ahead of kick-off. The club are delighted that striker Nat Jarvis has been chosen to represent the club in the activity following his hat-trick in the 6-0 win over Knaphill FC in the 2nd Qualifying Round tie.
In addition to City, the clubs who accepted the invitation to take part are; AC London, Chelsea, Coventry City, Fleetwood Town, Framlingham Town, Hereford, Litherland REMYCA, Manchester United, Newport County, Notts County, Truro City and Wigan Athletic.