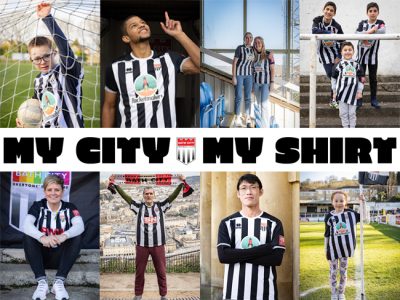 My City My Shirt photography exhibition launches this Saturday
This Saturday sees the launch of the My City My Shirt exhibition in Randall's bar of 30 photographic portraits of Romans fans around the city.
The My City My Shirt project is a celebration of the diversity and inclusivity that's at the heart of the Bath City FC fanbase and club ethos.
Created in conjunction with anti-discrimination organisations Fans for Diversity and Kick It Out, the project's aim is to promote loudly, widely, and permanently the message of inclusivity and of cohesive local identity reaching out from Twerton Park and across the city.
Around 30 portraits of subjects representing the diversity of City supporters have been created by renowned local photographer Nick Smith. The subjects are all wearing Bath City FC football shirts, and are pictured in front of iconic or significant Bath locations. Vox pops with some of the subjects can be unlocked via a QR code next to their portrait, bringing their story to life.
Their answers to the question: "What does coming to Bath City mean to you?" make us feel really proud. Replies like: "I love that all the players and the managers talk to you", "It's so inclusive", "It's so friendly", "There's a real sense of belonging" all take us back to the "Credo" we set out on becoming community owned in 2017. The Credo – our vision and aims for that new stage in our history – included a promise to be "open, inclusive, considerate and diverse". These testimonies demonstrate the realisation of that promise.
Thanks to our friends at Fans for Diversity we have been able to create these portraits and, following the launch exhibition at Bath City's final home game of the 2021/22 season on Saturday 7th May, we plan to tour them round other venues in the city, before they return to go on permanent display at Twerton Park in an enduring message of inclusivity, friendship, and a warm welcome to everyone.
Come along this Saturday and see who you can spot!