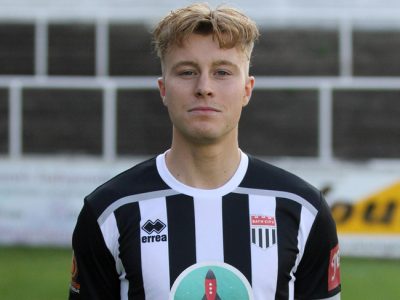 Meet the Players – Tom Richards
Tom Richards is now in his third season at Twerton Park and the versatile Bristolian is now one of the longest serving players at the club! We caught up with him following the opening two matches and he was in good spirits.

This is your third season with Bath City, how would you assess things to date personally?
"I have really enjoyed my time here, I'm still learning and improving season by season and I feel like I have got more to show."
You have proven yourself a very versatile member of the squad and appeared in several positions, where do you see your favourite position?
"I think I've played nearly every position on the pitch at some point which I take as a positive that I'm trusted to do a job for the team there. My favourite position is a box-to-box midfielder role in whatever formation that entails."
You are now one of the longest serving players at the club, how much have you enjoyed your time to date and what attracts you to Bath City?
"The whole ethos of the club and the people here have always made me feel at home ever since I've joined, which I'm really grateful about."
What personal goals do you have for this season?
"On a personal level I want to play as many games as I can and contribute with as many assists and goals as possible in a successful season for the team."
What is your favourite moment in a Bath City shirt so far?
"I think my most memorable moment was making my debut against Braintree when we won 2-nil, as it was my first taste of what playing for the club was about."
How much has having the fans back been a boost to yourself and the team?
"I think it's a massive boost for us; it feels great to have everyone back after the last 18 months."
Finally, how does this team compare to the others you have played with at Bath City? Should we expect anything different this season from the team?
"We've always had a strong team since I've been here with promotion the target and this year it is certainly no different. But I would say definitely there's more belief and quality within everyone here now that we can achieve that."