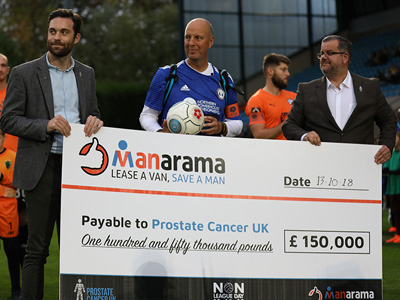 #MANarama National League campaign raises £150,000 for Prostate Cancer UK
The ground-breaking #MANarama campaign, which saw the fifth and sixth tiers of English Football make football history through a mid-season re-brand, came to an end on Non-League Day and raised a total of £150,000 for Prostate Cancer UK.
The #MANarama campaign made history as the first time an English Football League rebranded mid-season and raised £150,000 for Prostate Cancer UK.
In support of the campaign, Vanarama and sister brand Motorama donated £50 to the charity for every van, pickup truck and car it leased. This 'lease a van, save a man' initiative is running throughout September and October.
Vanarama's cheque for £150,000 was presented to Prostate Cancer UK at the flagship game for Non-League Day between FC Halifax and Chesterfield on October 13th. The presentation party included ultra-marathon hero Kevin Webber, who had just completed seven walking marathons in seven days.
Vanarama, the UK's leading commercial vehicle leasing company, powered the fundraising drive by sacrificing its naming rights for the National League, together with a vehicle leasing initiative, 'lease a van save a man', which ran throughout September and October. A cheque for £150,000 was presented at the flagship BT Sport televised game for Non-League day between FC Halifax and Chesterfield. The presentation took place ahead of the game when ultra-marathon hero Kevin Webber, who had just completed seven walking marathons in seven days, was given a guard of honour by both sets of fans.
£150,000 was raised by Vanarama in just 43 days by donating £50 for every vehicle it leased from the start of September until Non-League day on October 13th. Within that time a staggering 688 men would have died from prostate cancer, highlighting just how important it is that more men are made aware of the most common cancer in men. Prostate Cancer UK became the National League's first official sponsor for the 2018/19 season and this year's Non-League Day was given added significance by the presence of Webber.
Diagnosed with incurable prostate cancer in November 2014 and told he could have as little as two years left to live, the remarkable Webber has raised thousands for the charity in a series of epic endurance events and in the build-up to Non-League Day he walked more than 180 miles from Blyth Spartans to FC Halifax Town. In total, he visited 10 National League clubs, hand-delivering unique captains' armbands to be worn by all MANarama teams on Non-League Day. The bright orange band, which includes the iconic Prostate Cancer UK logo, illustrated the clubs' united stand against the most common cancer in men.
Also joining the fight was Sky Sports television pundit and Prostate Cancer UK ambassador Jeff Stelling, who posed with one of the armbands alongside Hartlepool United skipper Andrew Davies ahead of their away clash at Leyton Orient. 
Andy Alderson, Vanarama CEO and Founder said:
"At Vanarama we're thrilled with the amount of money we've been able to raise for Prostate Cancer UK. The MANarama campaign brought together three great organisations with one main goal – to raise awareness and funds in the fight against the most common cancer in men.
"We've managed to get to this total because of our wonderful Vanarama customers, and if you've leased a van from us in the last 45 days, you have helped save a man. Hopefully the money donated to Prostate Cancer UK can play a small part in one day beating this truly terrible disease." 
Angela Culhane, Chief Executive of Prostate Cancer UK, said:
 "We're thrilled with the continued success of Non-League Day, and to pick up a cheque from Vanarama for £150,000 is a wonderful end to this campaign.
"In many ways, there was no better person to collect it on our behalf than the extraordinary Kevin Webber. He's no stranger to extreme activities, and by embarking on an epic 10-club excursion in the north of the country he's selflessly spread a powerful and personal message about this deadly disease, utilising the power of football and the communities that bring those clubs to life.
"Kevin is an inspiration and we also thank the National League for making us their first ever charity partners and everyone who has embraced the brilliant MANarama campaign that has caught the imagination so much.
"There is real momentum building now in the fight against this disease, and the vital next step is to work towards a screening programme to catch more prostate cancers early and save more lives. Thanks to this exciting campaign we can move a step closer to making this a reality." 
National League Chief Executive Michael Tattersall, who walked alongside Webber in the final day of his challenge, said:
"We're delighted at the response of our temporary – and historic – rebranding to the MANarama National League over the past six weeks and it's wonderful to see so much money and awareness raised to aid the fight against prostate cancer.
"We are proud to have Prostate Cancer UK as our first ever charity partner and look forward to working with them more going forward.
"This deadly disease has no boundaries, so it's been incredibly inspiring to see Kevin Webber raise so much awareness within many of our membership. He's a remarkable man doing remarkable things and we will continue to stand alongside him and everyone affected by prostate cancer."