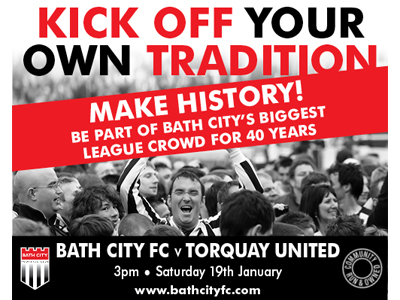 Make history this Saturday
With Torquay United selling out their allocation of 1,450 tickets for Saturday's match there's a chance for you to be part of history this weekend. We've been poring over the archives and think this could be the biggest regular season league crowd for over 40 years.*
Back in January 2011 Twerton Park was bustling with a crowd of 2,301 for the visit of former League Cup winners Luton Town. But you have to go all the way back to March 1978 and the derby draw with Weymouth in our Championship winning season, for the next biggest crowd of 3,328.
With average league crowds at City this season of exactly 900 so far, we're confident the total will beat the Luton number. But can we get to 3,000 or more? After 1,727 came through the gate on New Year's Day and 1,585 turned out for Community Day we'd like to think you can help us get there.
You can buy tickets in person in advance this week or pay on the gate on the day. We have extra turnstiles open to get everyone in as quickly as possible, but do be sure to arrive early to get to your favourite spot for kick-off.
Entry is £13 for Adults, £10 Seniors, £7 Students/U18 and £2 for U16s.
Home ticket and season ticket holders enter through turnstiles 9 and 10 for terraces and 14 for the grandstand for fast-track access. Otherwise pay on the gate.
Please do your part by rustling up your friends and family to get along to the game and enjoy the big match occasion. It's your chance to be part of history!
*Statisticians' note – Of course we had 4,865 for the play-off final against Woking in 2010, but that wasn't in the regular league season.