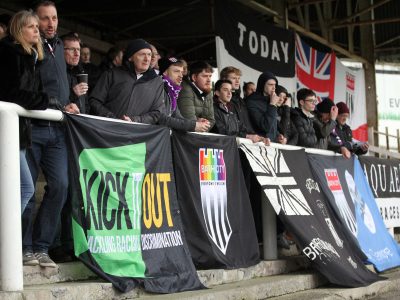 LGBT+ History Month – An article by James Rampton
February marks LGBT+ History Month in the UK, an important time for some of our colleagues, friends and family within the BCFC community.
Looking back, this weekend marks a year since Bath City FC vs Dulwich Hamlet FC where we came together as a community to celebrate our differences together. As John Reynolds mentioned in that programme, "we continue our celebration of diversity and inclusivity." I personally found it a privilege to attend the game feeling that I could be accepted for who I am within our community club.
In the build-up to the game, I was happy to create an article, which went into Bath City vs Weymouth programme. A new flag was created with pride joining the collection of flags we proudly display each match. I was grateful to meet opposition supporters of Dulwich discussing how they have a strong LGBT+ support and how diverse their club is. Knowing that Bath City FC as a whole is accepting and supportive for all amongst the club and supporters that are LGBT+ is fantastic. I personally received positive messages from fans and personnel including Jim Rollo who shared my post on Facebook before the game. It can still be quite an isolating feeling being a minority amongst many. To stand up against a comment or shout within a ground that to some may feel normal however to others it would appear homophobic, is daunting and uncomfortable.
Being scared, uncomfortable, isolated and within a minority may be why there has not been a male player come out within our beautiful game. Thomas Beattie (a former Hull City FC youth player) said "The reason is the same reason most people aren't coming out now – we are still trying to redefine what masculinity is and that's a big issue in sport."
So, on 22/02/2020 we played an exciting game of football and demonstrated solidarity for all amongst Bath City FC and Dulwich Hamlet. It was amazing to see players warming up in "fans for diversity" and "kick it out" t shirts. Knowing Ryan Clarke wore a rainbow captains' armband and having a celebration for the unveiling of a new flag demonstrating "Bath City welcomes everyone" was a special occasion for me. I think that this is very important not only for the LGBT+ community but also for "kicking out racism" especially with recent social media posts. It is great to be part of a community and club that accepts all without prejudices or malice towards others.
At a time when positive mental health is really important, I re watched the highlights via https://youtu.be/y2mexDcRLRM. It goes to show how sport can be a boost for all especially in difficult times. It was a game to remember for many highlights. Within the post-match interview Jerry Gill said after 6minutes 23 seconds "There's a lot of things around mental health at the moment, I think sport and football can be a really good vehicle for that." And this was mentioned last year even before the pandemic swept the country in many waves. It is the same for many with mental health worries, especially amongst the LGBT+ community too with so many working within the NHS or care environments and knowing that Bath City FC is inclusive for all, I feel benefits the community. It is very important to reach out asking how everyone is.