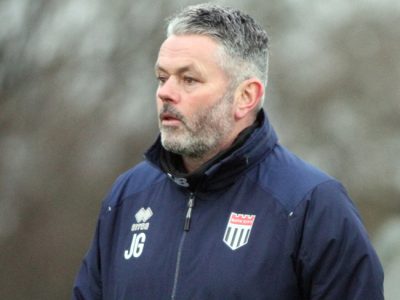 Jerry's thoughts ahead of Eastbourne match
Good afternoon and welcome back to Twerton Park for yet another tough game against a good footballing side in Eastbourne Borough. My welcome is extended to Danny, his staff, players and supporters; we hope they have a safe trip to and from us today.
Buy tickets in advance (before 1pm) here.
Well, how good was it to do the double over Chippenham and deservedly pick up six valuable points. We were certainly the dominant side in both games, it was all for you the fans as it always is in local derby days. It once again highlighted again how good a side we can be on our day when we can get all our players fit and available.
We were all blown away by the following we took over there Boxing Day, and what an incredible sight and sound here on the return game in front of 2,261. We really appreciate all your fantastic support.
Now comes the frustration of losing the two games following the last time out here on January 2nd. The game away to Chelmsford was very tight (as is the pitch). In very challenging conditions, it was a really poor game in terms of quality. Having been awarded a penalty and for the ref to then change his mind was astonishing. To be told by him after and in the subsequent report that he got the process of changing his mind all wrong due to player reaction and gut feeling left us even more frustrated as we would have taken a point and moved on.
Last Saturday at Hemel was a different story. Yes, we went into the game with many key players missing but the team was strong enough to go get something. I felt we played with a poor intensity and tempo. Our ball retention was technically really bad. And to add to it, the defending including everyone – 1 to 11 was frail and weak.
They trained very well in the week and were well prepared in terms of the analysis of Hemel on how we deal with their threats whilst attacking their weaknesses, but the players let us all down and were told in a controlled manner afterwards.
We need to address the inconsistency and put together a run of positive results and performances. We thought after the Chippenham games we would get that as the form even before then was good.
So today it's a home game to go out, express themselves and show what a good team we can be. As I wrote these notes, we have lost three other players to injury following the Hemel game. It totals now seven players in the treatment room, all from impact injuries. Maybe that's our luck at the moment but we can't feel sorry for ourselves.
There may be players having to play in unaccustomed positions to help the team out but we will go out there and do our best.
I am hoping to watch some players this week and maybe I can strengthen the group, but with contract players being the ones out injured, it may prove difficult as I may have to juggle my loan players because of the limit of five only in the match day squad.
I want to thank Mo Touray for his time with us. He has returned to Salford on the completion of his loan with us and not extending his deal further. In his first spell, Mo had an impact in games and looked sharp and lively but following an injury and then another spell out with Covid he has found it difficult to find his fitness and form. We all at Bath City wish Mo all the best going forward.
We hope you all enjoy today's game.
Please get behind the team like you always do, as they will need you in the difficult spells of the game.