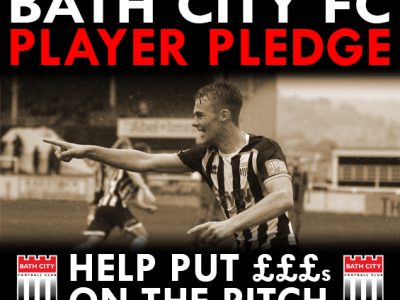 Help Jerry put £££s on the pitch and get rewards
Help us get the best possible team on the pitch
Every year some of our keenest supporters make donations to the ring-fenced Player Pledge Fund towards paying for players throughout the season. The fund is often used to bring new players in or to help pay loan costs, and actually helped bring Tyler Harvey here back in 2015-16.
During the first lockdown generous fans made extra donations to help keep the Club running and all that money has been allocated to support the playing budget. Now we're asking for your support to boost the budget and to help out on the pitch.
To recognise your contribution, everyone who donates will:
be invited to a reception, where you'll get the chance to meet and chat with Jerry – as soon as it's permitted
receive a personally signed thank you card from Jerry
and we'll list your name in the programme (if you want it) every match as a gesture of our thanks.
(If you're already part of the Pledge – thank you – you'll receive these benefits as well)
Whether it's £50 as a one off, £20 a month, or whatever you can spare, every £ donated will help fund the 2020-21 squad. We're aiming for a total of £15,000. The average crowd last season was 1,100, so if everyone gave £15 we'd smash the target. Please do your bit to help.
There are four easy ways to donate:
You can donate instantly online now and 100% of your donation will be transferred directly to the ring-fenced Bath City FC Players Fund account. Donate now
Or if you want to spread the cost and give throughout the year, download the Standing Order Mandate, complete and send it direct to your bank (email us to let us know) or to the Club at the address below. Download the form now
Set up a Standing Order with your internet banking using these details – please email info@bathcityfootballclub.co.uk to let us know:
Bath City Football Club Ltd Players Fund
Bath Building Society
Recipient's Sort Code: 62-30-45
Recipient's Account Number: 00000000 (this is the correct number)
Reference: 42934766 (be sure to include this unique reference)
Or you can send a cheque made payable to: Bath City Football Club Ltd Players Fund
Post it to: Bath City FC, Twerton Park, Twerton, Bath BA2 1BD
We know that our fans are some of the best around and you already support the Club in all sorts of ways, but we do hope  you can find a little bit more spare cash to give Jerry's playing budget a boost with this special fund.
Thank you for your support!