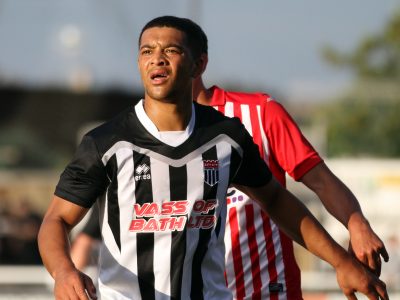 Further player and pre-season news
Further activity on the player front sees 25-year old striker, Nat Jarvis, join City for the forthcoming season. Nat had a short spell with us back in 2013/14 before playing for Gloucester City, Cirencester Town and Hungerford Town. He has been a regular goal scorer for all three clubs. Nat has played international football having won 8 caps for the Antigua and Barbuda national team. We welcome him back to Twerton Park.
Also returning is Naby Diallo who has signed again for 2017/18 and will look to build upon last season's 30 appearances and 4 goals. Naby is raring to go and let's hope we see more goals like his individual finish against Maidenhead in April.
The players will report back for training in just over three weeks and the squad is shaping up well.
We are also pleased to announce that our first pre-season fixture of the summer will see Bristol City visit Twerton Park on Tuesday 11 July, with a 7.45pm kick off. We have built a very good relationship with the Ashton Gate side, including hosting some of their U23 fixtures last season, and look forward to welcoming them to Twerton once again.
Details of admission prices for this match and the other pre-season fixtures will be announced in due course.