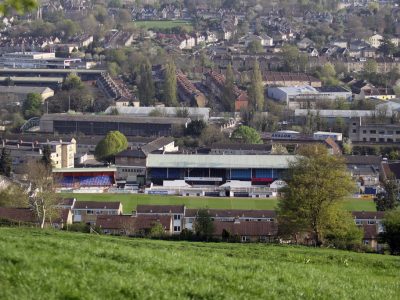 City love a ground with the best atmosphere
Football fans have named Bath City's Twerton Park as the best ground for atmosphere in the National League South. That's according to the independently judged FootballGroundMap.com website, which ranks football stadiums across England, Wales and Scotland.
Not only has Twerton Park been named as the equal best non-league ground for match day atmosphere but it also comes in the top 14 grounds for atmosphere across the whole of the UK, rated equal to Bramall Lane, Fratton Park, St James' Park, White Hart Lane, Celtic Park, Gallagher Stadium, Wetherby Stadium (CNG Stadium), Elland Road, Valley Parade, Murrayfield, the Liberty Stadium, Tynecastle and Victory Park.
Those 14 grounds all scored four stars out of five, voted by some 133,771 football fans who used the FootballGroundMap.com site. That places Twerton Park – for atmosphere – above such iconic stadia as Old Trafford, Anfield, Ibrox, Stamford Bridge, Ashton Gate, Goodison Park and more.
Some 11,104 visits to see Bath City play were recorded by various independent supporters, and voters could then rank the match experience out of five across a variety of categories, such as views, location, food, policing, atmosphere and more.
FootballGroundMap.com is the brain child of web developer and Sheffield United supporter Rob Clarkson. St James' Park and Falmer Stadium – homes of Newcastle United and Brighton & Hove Albion respectively – were ranked as the top stadiums overall. See more details on the site here: www.footballgroundmap.com.