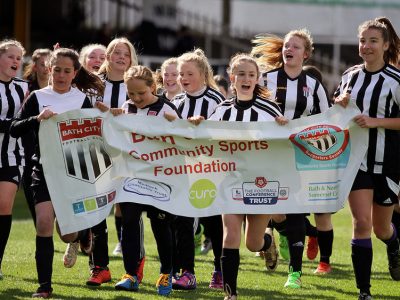 Exciting Women's & Girls' Football Funding for Bath City FC's Charity
Bath City FC Community Sports Foundation is all set to help support and develop Women's and Girls' Football in Bath.
The Club's charity has been awarded £8,000 from The National League Trust as part of a pilot programme funded by the Wembley National Stadium Trust.  Bath City FC Community Sports Foundation have been selected to be part of this pilot because of their track record in women's and girls' football and geographic location, which is part of the FA's development strategy for the female game.
The objective is to provide high-quality female-only sessions to give women and girls aged 11 and over new opportunities to play football. Wembley National Stadium Trust has granted the National League Trust £100,000 for this programme.
Having linked with numerous partners including Bath College, Bath University, GLL, Hayesfield Girls School and Somerset FA, The Foundation is striving to make a noticeable difference to the opportunities available in Bath. The project aims to:
increase the number of women and girls who regularly play football
provide more opportunities for women and girls to develop their skills and confidence and
support women and girls to progress on a pathway as a player, coach or official.
There will be 3 different sessions aimed at:
14 – 16 year olds (Years 9-11) participation
16 – 25 year olds who may want support into coaching / officiating
Female adults who may wish to use football as a way back into activity for fitness or socially
As part of Bath City FC's commitment to help support and develop Women's and Girls' football it will be hosting a 'Women at the Game' day at the Bath City FC v St Albans on 13th April 2019, where many of the participants and partners will be in attendance.
Rhianna Jamieson FA Women's and Girl's Football Apprentice Bath College said, 'My role is to grow and develop Women's and Girl Football provision within Bath College and the wider community. Within the Bath area there is massive opportunity to start something big within the Women's game and by Me, the College and Bath City Foundation working closely together we are beginning to see some great plans come into place and there are some really exciting projects on the horizon that I, myself cannot wait to get started. By working with the Bath City Foundation we are not only able to offer girls at the college opportunities to play more football but to also get involved in coaching within the community, massive for helping build confidence and gain that extra experience within the game.'
Geoff Stevens, Bath City FC Community Sports Foundation Project Manager, added,
"This is a fantastic opportunity for the Foundation and Bath City FC to help participation in the Female game within its own community. This will help us forge new partnerships and shape exciting new pathways for those either wanting to get fit/active through football or looking to become more involved through playing, coaching or becoming a ref. The support of Bath College, Bath University and Somerset County FA in particular has been extremely important in identifying and recognising the need for this project. We are extremely grateful to the National League Trust and Wembley National Stadium Trust for their generous contribution and without them this project would not be possible".
For more information on sessions contact the Foundation – info@bathcityfoundation.org