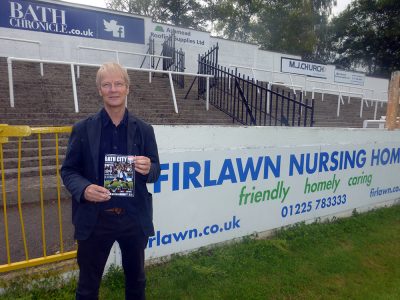 Country Care Homes – Match Day Programme Sponsor
As fans, who purchase match day programmes, will have noticed, and we hope many others, Country Care Homes have continued their sponsorship of the match day programme for a fourth season.
Chad Doveton, of Country Care Homes is proud to continue Country Care Home's sponsorship of the City programme for a fourth consecutive year. Chad says that being a sponsor is a brilliant way to support the club and to promote his nursing care business. "Bath City give fantastic support to our business and watching City has never been more enjoyable", said Chad. Country Care Homes have two first class care homes in Wiltshire, with the latest state of the art premises near Malmesbury being opened this year. As with Firlawn, the aim of the company is to offer country house living with first class care.
The club would like to thank Chad for his continued support. The photograph shows Chad, holding the programme for the Chelmsford City game standing by his advertising hoarding at Twerton Park.
To find out more about Country Care home please go to their website at www.countrycarehomes.co.uk
Don't forget to buy your programme – it's a great read and last season was voted third best in the Vanarama National League South.