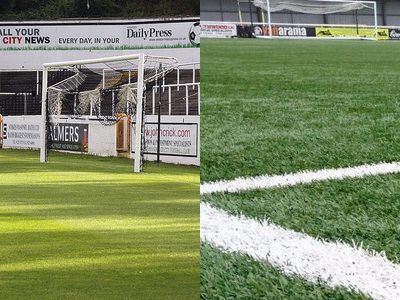 Club update on 3G and redevelopment
Bath City Football Club will this week submit a planning application to B&NES council for a 3G pitch at Twerton Park as part of our longstanding strategy to make the Club a sustainable business at the heart of our community. 
The southside of Bath is not well served by sporting infrastructure and the Club believes that the 3G pitch will be an invaluable asset for the local area, enabling more activity to take place to support the health and wellbeing of our local community. 
For the football club itself, a 3G pitch would reduce income lost due to match postponements (four this season already including women's games) as well as providing a much-needed significant additional revenue stream. 
The Bath City family has a men's team, a women's team, an Academy, a thriving youth football club and our charity, The Bath City FC Foundation, which runs numerous community programmes, all of whom would use the pitch. In addition, the pitch would be available for hire by other sports clubs, schools, business and individuals, providing another 3G pitch for the city, where access to such pitches is oversubscribed. If the application is successful, and subject to successful funding arrangements, the aim would be to instal the pitch at the end of this season in time for the 2023/24 season or, given the time constraints, in the following close season.
At the same time we are pleased to let you know that the redevelopment project is also progressing. Over the next six months we will be working with Bath-based Rengen Developments, an experienced company with a track record of successfully delivering complex projects in Bath and Bristol, including the impressive Paintworks site in Bristol. The aim is to examine all opportunities on our own existing footprint to release value to the Club, enhance our facilities and reduce our debt. You can see more about the kind of work they do here. We will keep you informed as the thinking and plans for the ground progress.
Thank you for your ongoing patience and support as we seek to put Bath City on a sustainable long-term footing for the future.
FAQs
Why are you putting in a planning application now?
Modelling suggests that 3G could be transformational for the Club as it allows us to hire out the pitch and facilities as well as save money on training pitch hire, and avoid loss of income from postponed matches. It was always part of our original redevelopment plan but given the likely timescales for this, the Board has decided to decouple the two projects and push ahead with 3G whilst the longer term redevelopment project is explored.
Does this mean that the redevelopment won't happen?
Not at all, it just means that it may happen after the 3G pitch is laid. We have been reassured that the 3G pitch would not be impacted by any redevelopment of the surrounding stands and Club facilities.
How can the Club afford to put in a 3G pitch?
Many clubs in our league have proven that it is possible to do this through a combination of grants and bonds. We are working on what our financing will look like and will share this in due course.
Does this mean that we have given up on our promotion ambitions?
Not at all, the Club is still ambitious for promotion. 3G pitches are permitted and widely used in the National League.
What about the environmental impact of these pitches?
The supplier that we are working with uses 70% less rubber crumb than other manufacturers, and the pitch will be installed to ensure the highest environmental protections are in place.
Isn't football best played on grass?
3G surfaces have improved hugely in recent times and are permissible in the FA Cup, international elite leagues including Scotland, The Netherlands and Scandinavian countries, The Champions League, Euros and FIFA World Cup Qualifiers. And a 3G pitch will allow all our teams, men's, women's, youth and the Foundation activity to take place at Twerton Park. It will help our community club thrive throughout the week with no danger of games being called off.
What do Jerry and the players think of playing on artificial grass?
The players play regularly on 3G with many of the teams in our league having this surface. There is some variance in quality – we are proposing using the same pitch installers and specification as Hemel Hempstead which Jerry and the players have given positive feedback on.
Aren't lots of supporters opposed to 3G?
Not at all. In fact there was a consultation about 3G as part of the original redevelopment process in 2018 when 89% (226) of Supporters Society members backed the adoption of 3G against only 11% (28) opposed. The Supporters Society has a controlling shareholding in Bath City FC and its members have consistently ranked running the Club as a sustainable business as their number one priority.