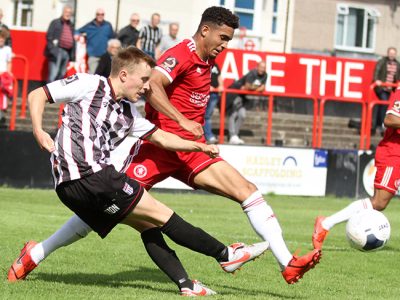 Classy City show no mercy in dominant Wings win
City continued their excellent start to the 2019-20 season with a 3-0 win at Welling United this afternoon that was every bit as dominant as the final scoreline suggests. All three goals came during the first half where the hosts were largely spectators to City's passing and movement. The opening goal arrived after just nine minutes when Adam Mann's corner was directed toward goal by a combination of Joe Raynes and Andy Watkins where Alex Hartridge applied the final touch just before it crossed the line. On 23 minutes Watkins burst into the box only to be felled by Rooney's desperate lunge and Tyler Harvey was successful from the penalty spot for the second game running. And City's control deservedly secured a third goal two minutes before the break when Tom Richards fired home from Harvey's perfect pull-back.
The performance was all the more remarkable given City had seven unavailable players watching from the stand and were fielding their third goalkeeper in as many games – 18-year old James Pardington drafted in on loan from Wolverhampton Wanderers.
Playing down the Park View Road slope the second half saw the Wings improve slightly but they never threatened a comeback and it was City who continued to look threatening whenever they attacked with Richards grazing the outside of the post with a shot and Harvey scooping an effort just wide. In the end, even though they didn't add to the scoring it was complete 90 minute performance from the Romans that they will look to build on in the two home games coming up this week.
Next up – Bath City v Hungerford Town, 7.45pm Tuesday 13th August