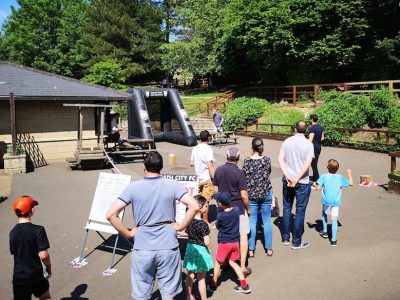 Bath City creating summer fun and raising funds
You may have seen the Bath City inflatable in action at the pre-season Open Day, but did you know it's been on a continual round of school fetes and local festivals? From May onwards our Beat-the-Goalie has been on the road, raising funds for the school PTAs, The Bath City Foundation and other good causes, with venues including:
Bathwick St Mary School fete
Oldfield Park Infants School fete
Bath Boules
Newbridge School fete
St Stephens School fete
Bath City Farm Family Fun Day
St Mary's Catholic Primary School fete
Oldfield Park Junior School fete
Bathwick St Mary Y6 Leavers Party
Firs Field Community Fete
Marshfest
Bath MIND Sportathon
Annabel Merrylees, Head of Bathwick St Mary Primary School PTA, is just one of those who has seen the fun to be had: "This was definitely one of the most popular stands at the School Summer Fair, both for kids and grown-ups, and raised nearly £100 for the school. Thanks Bath City FC!"
If you would like to bring the inflatable to your event, please contact our General Manager Carole Banwell by email at info@bathcityfootballclub.co.uk. All we ask is that you help with the collection and running of the inflatable at your event, but you are then free to keep all the funds raised for your own good cause.