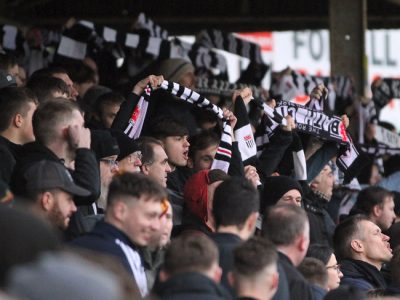 City Supporters Praised for Behaviour
The club has received a message from a Worthing pub landlord praising our travelling supporters for their behaviour:
Dear Sirs (Members of the Board & all staff),
Firstly, commiserations on the defeat in the FA Cup away to Worthing FC. Secondly, I felt compelled to contact you in respect of your travelling supporters. I operate a Micropub in close proximity to the Worthing ground and had the great pleasure of welcoming a large number of your fans for pre-match refreshments and, as it turned out, a lesser number for post-match drinks prior to taking the train home.
I should like to go on record in saying that each and every Bath supporter (all ages and genders) were the most good-natured, polite and respectful group I have had the good fortune to entertain in my premises over the course of seven years of serving various fans from a large number of clubs.
In particular. the 8-12 fans who returned after the game were still in good humour, engaged with my regular Worthing supporting customers and added to the positive atmosphere in the pub.
Good luck for the remainder of the season and please convey my appreciation to your travelling supporters.
Regards,
Les Johnson (Green Man Ale & Cider House)
We thank you for representing the club in such a positive manner!