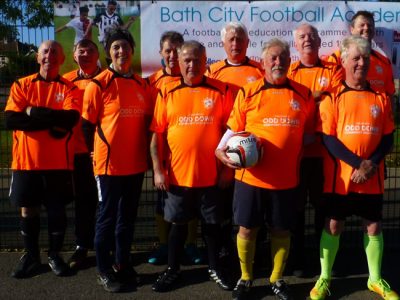 City set up Odd Down Walking Football Club partnership
Bath City FC Foundation are pleased to be partnering with and supporting Odd Down Walking Football club. Walking Football has taken off, right around the country and as a Foundation we are keen to see increased opportunities for the residents of Bath to get involved. For those looking for something new or to get active again in the New Year its a great way of developing or maintaining fitness. Throughout the year we are hoping to increase the opportunities to play walking football in Bath and look forward to working alongside Odd Down Walking Football Club as part of our ongoing work in the Bath Community.
Odd Down Walking Football Club is a community-based club with support from Odd Down Community Association. Established for over 5 years, playing 'the beautiful game' at a slower pace from 10.00 to 11.00 am every Monday and Friday at Odd Down Sports Ground, Chelwood Drive, Bloomfield Road, Bath BA2 2PR.
Players are primarily over 50 and range in ability from those who have previously played 11 a-side at a good standard through to people kicking a football for the first time. Sessions begin with a warm-up and stretching exercises and end with a 'warm-down' to minimise injury.
Walking Football rules have been defined by the Football Association as a non-contact sport requiring players to walk (often easier said than done) so players need to develop self-control and accuracy with passing the ball. This makes it ideal for mixed abilities and, as an inclusive group, both ladies and men are encouraged to play.
The Somerset Football Association also runs regular tournaments and leagues for those wanting to be more competitive while remaining within the rules.
' Not only do we play walking football to improve fitness, but we support well-being and combat loneliness through social activities such as curry nights and breakfasts. Along with our sister walking footballers in Keynsham we organise dinner/dances, Christmas lunches, weekends away and short tours, most recently to Spain and the Algarve.
We also raise money for charity and jointly, to date, have been able to donate over £14,000 to Cancer Research, Macmillan Cancer Support, Prostate Cancer and many local charities. '
Steve Collins – Odd Down Walking Football Club
OBJECTIVES
Provide a safe, inclusive and sustainable environment for people over 50 to play 'the beautiful game' a little slower,
Provide community based, recreational exercise through Walking Football to improve players health and well-being,
Grow the number of participants by encouraging and inspiring people to exercise through Walking Football,
Provide social opportunities for players to combat loneliness through shared experiences amongst members of their local community,
Raise awareness of the benefits of Walking Football, Odd Down as a community and the Odd Down Sports Ground facility
If you are interested in joining please complete the enquiry form on the website at odddowncwfc.org.uk or better still, just come along to watch and find out more from the players over a cup of coffee afterwards.
'It starts with one step……'