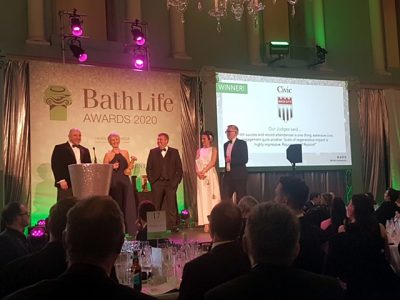 City Scoops Award for Civic Contribution
In a swanky Bath Life Awards ceremony at the Assembly Rooms this Thursday, Bath City was crowned the 2020 winner in the Civic category.
The prestigious Civic Award highlights the contribution of an organisation or company which has improved Bath over the previous year. It aims to recognise some new initiative which makes our city better, a commitment to helping develop others, or notable charitable work. The Club's award submission referred to our work with the city's schools, our young volunteers, refugee families, Citizens Advice and numerous other community groups.
It was supported by testimonials from, among others, George Samios, Headteacher at Twerton Infants School who said: 
"Our families and our own staff feel welcomed and supported by the club and there is definitely a sense that Bath City is our school's local club. At a time when we are under greater financial pressures than ever and lots of community support services are struggling to continue, Bath City FC have become a friendly and benevolent neighbour to our school."
The independent and impartial judging panel, made up of nine prominent Bath figures from the business and sporting worlds, was impressed by our Club's achievements, praising "our extensive civic engagement" and declaring that the "scale of [the club's] regenerative impact is highly impressive".
General Manager Carole Banwell accepted the award on behalf of the Club and dedicated it to the 150+ volunteers who are at the heart of it. Speaking after the event she expressed her delight at Bath City's success:
"For our Club to receive recognition in the form of this award is humbling and a fantastic testament to the huge strides we have made since becoming community-owned less than three years ago. With our planning decision imminent, we look forward to a positive outcome so that we can build on this work and continue to bring our whole city together both on matchdays and beyond."
The Club congratulates the other shortlisted organisations in the category and thanks the judges for recognising our achievements, as well as The Ivy Bath Brasserie, Novia and Bryers Law who generously enabled us to attend on the night.