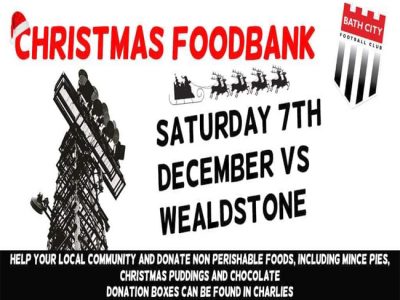 City back Bath Foodbank with Festive Appeal
This Saturday we are getting behind the Bath Foodbank with a festive appeal, helping to ensure people in our community don't go hungry over the festive period.
Bath Foodbank are after Christmas related donations which have long use by dates like Christmas puddings, variety chocolate packs and biscuits. In November the charity were also in desperate need of men's toiletries, rice pudding (tinned), bars of chocolate, custard (tinned), sponge puddings, jam and instant mash.
On Saturday you'll be able to drop off your donations at our collection point in Charlie's Bar. For those who can't make Saturday's match but would still like to donate, feel free to pop in during office hours this week.
Here are some items that the foodbank are after:
· Christmas puddings
· Men's disposable razors
· Men's deodorants
· Women's deodorants
· Shampoo/Conditioner
· Shower gel
· Soap
· Christmas Biscuit Variety (Tins)
· Christmas Chocolate Variety Packs
· Pickles, onions, stuffing etc
· Jelly cubes
· Sponge puddings
· NOT mince pies (unless dated Jan 2020 onwards)
Thank you all for your support!