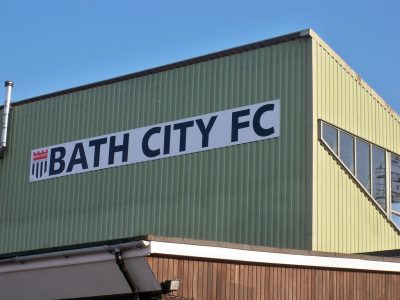 Following the Bath City FC Board Meeting on Monday evening, we're delighted to report that we are now rolling out a plan to facilitate and fund our team competing in the upcoming promotion play-offs.
With Jerry Gill returning from furlough and training due to resume imminently, the Club will soon turn to you, the fans, to help the team tilt for promotion.
Club Chairman, Nick Blofeld, was in excited mood after the meeting. "It's been a tremendous achievement for our team to finish fourth in the league and have a home tie in the newly re-organised play-offs. Of course this is a financial as well as playing challenge and we're going to be asking supporters to help fund the £35,000 projected extra costs of participating. We have a fantastic chance of going for promotion but, as a responsible Club, we don't want to spend next season's money funding it when next season promises to be challenging whatever division we're in. So look out for our announcements and get ready to help us compete over the next month at the same time as being fit and well for what's yet to come."
Fans will get a chance to hear more tonightat the Supporters Society virtual meeting and Q&A with Jerry Gill and Jim Rollo. Details here www.bathcitysociety.org/news.