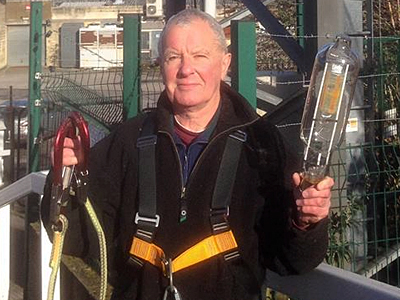 A team of dedicated volunteers have been pretty busy over the past couple of weeks! They've been inspecting the floodlights, sprucing up the front of the main stand and installing new bike racks!
Our majestic floodlights have unsurprisingly passed their 2-year inspection. A replacement 'starter' has now been fitted to one of the pylons along with two replacement bulbs. They have been maintained by volunteers for many years and are now among the strongest in the National League.
The front of the main stand has been made to look much smarter, following on from the great work done by the 'Paint The Park' volunteers last summer. It has now been finished off with cladding used to cover the sections above the main adverts.
Finally, we have now added a number of bike racks available at Twerton Park! With the weather (hopefully) improving over the next few weeks, why not ditch the car and cycle to a game before the season ends?
Want to get involved? We have lots of volunteering opportunities here at Bath City. Take a look here: https://www.bathcitysociety.org/volunteer-for-bath-city.html