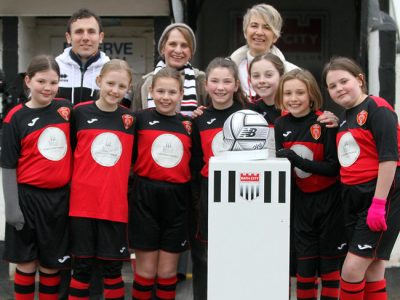 Ahead of today's International Women's Day, a crowd of 132, together with local MP Wera Hobhouse watched Bath City Women beat Wellington Ladies at Twerton Park 2-0 on Sunday (5th March) and for the home team, there was more than the just the result to celebrate.
Founding partner Novia have agreed to a two-year extension to their sponsorship, a move that will enable Bath City Women to expand their squad and launch a development team to bolster the pool of players available for the first team squad and provide a pathway for local girls.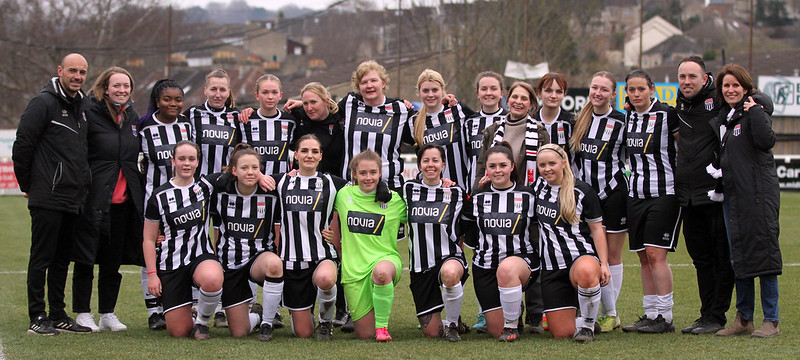 MP Wera Hobhouse said: 'It made for a wonderful afternoon to be able to watch Bath City put on a brilliant display and walk away with a two-nil victory. The match made for a very fitting start to the week of International Women's Day.
'Talking to the players at the game was also inspiring. It is great to have such brilliant women in sport and those same women representing our city. The team has grown so impressively since being set up such a short time ago and I cannot wait to see what they do in the future. I also want to congratulate Bath City on the work they do off the pitch. Their community engagement truly is a fantastic example to the rest of us and it makes me proud to have such a caring organisation in our constituency.'
Jane Jones, Community Director at Bath City who leads on the women's team said: 'When we set up our women's team less than a year ago, our stated ambition was to treat them equally with our men's team and give them the best support on and off the pitch. We've done this through employing highly qualified coaches, playing our games at Twerton Park, offering physio support to the players and using the social media resources of the club to promote the team. We also said that we wanted to grow interest in the women's game in our area, so it's been fantastic to see girls from local clubs come to the games and be mascots for the team. And now, thanks to the continued support of Novia, we can expand our squad so that next year, with a development side to provide more playing opportunities for girls and women in the area.'
Playing at Twerton Park has certainly proved to be a draw for spectators with average gates of over 100 for each game, which makes them one of the best supported sides at this level of the women's game. On the pitch, the team lie in second position with very little separating the top six sides in the league. They were the first team in the league to beat league leaders and defending champions Pen Mill in a league match this season and have the second-best goal difference in the league so far.
Matt Abreu, Head Coach for the team said: 'I'm delighted how this season has gone so far. As a brand-new team, we are still learning about each other and defining our playing style. The team spirit is high and there's a sense that we're building something here in Bath. Having a bigger squad with a development side next season will help push our players on whilst giving an opportunity for younger players to develop in the senior game.'
Tara Taylor Captain said: 'This has been the best team that I've been involved in my 27 years in football. There's no doubt that playing our games at Twerton Park sends a really strong message about the women's game. I love seeing the next generation come along to support us too, we take our responsibility as role models seriously. Hopefully these girls won't encounter the prejudice that a lot of us have had to deal with so far.'
Vicki Baker, Chief People Officer at Novia said: 'We're delighted to extend our partnership with Bath City Women. I know first-hand the benefits of having access to playing sport as part of a team, so we're glad to be able to continue helping the club to grow and expand their ambitions beyond just the first team squad and make a difference to the future of girls' and women's football in Bath.'
Bath City Women will play their final home league game at Twerton Park on 2nd April v Woodspring Women at 2pm. Entry is free.
Anyone with experience over the age of 16 who is interested in finding out more about playing for Bath City Women should visit www.bathcityfc.com/bathcitywomen/ . Any young girls interested in playing should contact Bath City Youth on www.bathcityyouthfc.com or Bath City Foundation who run sessions for girls but also women looking to try football for the first time https://www.bathcityfoundation.org