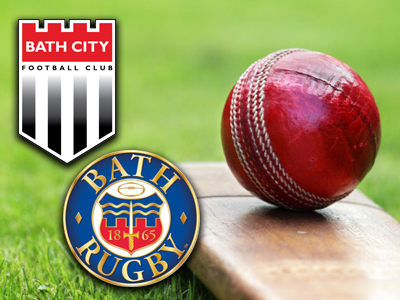 Bath City v Bath Rugby cricket match on Tuesday 23rd July
Bath City take on Bath Rugby at Cricket this Tuesday 23rd July
5.30pm start – entry free
Jerry Gill will lead out a Bath City Select XI featuring himself, Jim Rollo and first team players against his opposite number, Stuart Hooper, and a Bath Rugby team with their own first team stars. Entrance is free, but there will be bucket collections to raise money for the Bath City FC Foundation and Bath Rugby Foundation.
What: Bath City v Bath Ruby 20 overs cricket
Where: Bath Cricket Ground
When: 5.30pm, Tuesday 23rd July
Entry: Free (there will be bucket collections)
Looking forward to the match, Jerry said:
"We're excited to promote this unique chance to come along and see the city of Bath's three big sporting organisations coming together for a charity cricket match. Please come along and enjoy a night of fun at Bath CC for all the family. Let's see as many Bath City shirts, flags and scarves there as possible. Make some noise and support us in what I'm sure will be a competitive match with the city's bragging rights at stake."
We hope to see you there!