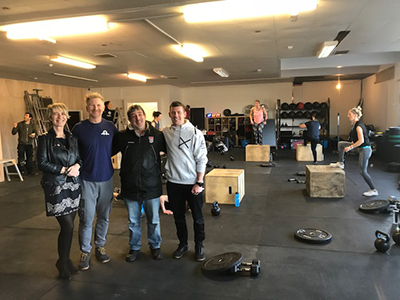 Bath City signs "significant" deal with CrossFit Bath and welcomes the gym to Twerton Park
Bath City Football Club and CrossFit Bath have announced a collaboration that will see the gym move to new premises at the club's Twerton Park ground this week.
CrossFit Bath will use the bar and function room space at the football club, enabling it to maintain its existing class timetable and structure. Also, the two organisations are planning to open a café and shared community meeting place within the gym.
Twerton Park has proved a popular party and corporate venue over the years and this will continue unchanged,  as the gym's operating hours will be compatible with all Bath City's private party and other events bookings. Importantly, the twice-monthly blood donation service sessions held at the club will also continue unaffected.
CrossFit will offer a 10% discount on membership for all Bath City season ticket holders, and will be on-hand to provide strength and conditioning training to all Bath City football teams. Additionally, CrossFit will be working closely with the club's Community Director to help raise awareness of the benefits of a healthy and active lifestyle.
Carole Banwell, general manager of Bath City Football Club, said of today's announcement: "This is a significant and exciting collaboration for Bath City. It meets two of our key aims: bringing necessary non-matchday revenue to Twerton Park, and helping to highlight the benefits of good nutrition and exercise. Also, CrossFit's members will see first-hand, what a great club we have here, hopefully becoming supporters themselves.
The plans for a café and community meeting place within the gym will help Twerton Park to become a hub for the local community, a goal at the heart of our vision for the club."
Founded in 2009 by three friends, Adam Shackell, Ollie Mansbridge and Edward Mason, CrossFit Bath was just the 9th UK CrossFit affiliate to open in the UK. After opening a second gym in 2015 in Trowbridge (CrossFit The Bridge), the business has grown substantially and now has a membership of over 400 athletes across both gyms.
Ed Mason, one of CrossFit's founders, commented on the move, "This marks a new chapter for CrossFit Bath. Without Bath City's help we ran the real risk of facing closure of the gym, following our eviction from Wansdyke Business Centre. Now, we're looking forward to an exciting future working with the football club, and we're looking forward to welcoming regulars and new members alike to our new home."