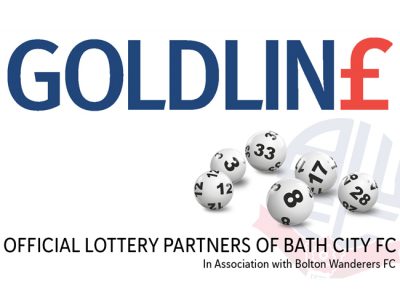 Bath City Goldline Lottery launches
Bath City FC is delighted to announce that our new official lottery partners are Bolton Wanderers FC's Goldline Lottery.
The Goldline Lottery will have significant benefits for our football club with 70p of every £1 spent in the lottery going straight back into Bath City FC.
The lottery is not only a great way to support the club but has fantastic weekly rewards. We encourage as many fans as possible to sign up and support this exciting new partnership that is an important revenue source to Bath City FC.
HOW DOES THE GOLDLINE LOTTERY WORK?
All lottery members will receive a membership card with your weekly draw numbers.
You are given 10 sets of numbers in total, each with a prefix letter.
If your prefix letter and the 4 following numbers are drawn you will win a prize. The weekly prize amounts are listed below:
1st Prize – £1,000
2nd Prize – £500
3rd/4th/5th Prize – £250
6th to 25th Prize – £25
All weekly winners will receive their prizes directly through the post so there is no need to claim any winnings, however if you want to view the full list of winners then they shall be published online every Friday via the BWFC website and on the Bath City FC club's website at www.bathcityfc.com. The draw takes place every Friday.
The promoter of the lottery is Bolton Wanderers Development Association which is licensed by the Gambling Commission.
HOW MUCH DOES IT COST TO PLAY THE GOLDLINE LOTTERY?
Our preferred method of payment is a £4.34 per month Standing Order through your bank, which works out at just over £52.00 per year – which works out as just £1 per week!
£1 to possibly win £1,000? What are you waiting for!
You can download a membership form online, fill one in at the Club Shop & Ticket Office, or request one to be sent out to you via post.
If you wish to join the lottery via online banking please could you contact the club in the first instance, we will issue you with a reference number which needs quoting with your remittance so that we can identify your payment. We will then process your details and ensure that you receive your membership card.
You can also pay by cheque or via the Club office.
WHO IS MY GOLDLINE CONTACT AT BATH CITY FC?
If you need to contact us please email info@bathcityfootballclub.co.uk or phone us on 01225 423087 and we will get back to you.
Remember – responsible gambling is fun gambling. BWFC & BCFC support responsible gambling. Tel: 0845 6000 133 or visit www.gamcare.org.uk if you need advice or support.