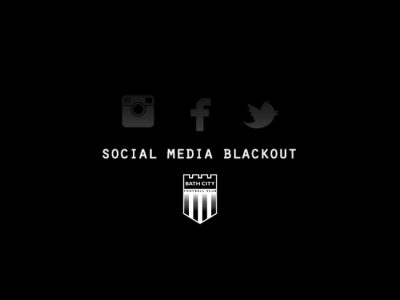 Bath City Football Club announces social media boycott to tackle discrimination
Bath City Football Club have joined football clubs across the country in a united stand to highlight and challenge discriminatory abuse received online by players and many others connected to football.
Alongside the FA, Premier League, FA Women's Super League, FA Women's Championship, National League, Kick It Out and the FSA we will switch off our social media in a boycott from 15.00 on Friday 30 April to 23.59 on Monday 3 May.
Bath City FC recognises the considerable reach and value of social media to football and welcomes the positive influence it can have on facilitating access to supporters who are the lifeblood of our club. However, on such an important topic, we gladly share the call for individuals and organisations across the game to join us in a temporary boycott of these social media platforms, to show solidarity and unite in the message that English football will not tolerate discrimination in any form.
Joy Saunders, BCFC Community Director, said: "As a community owned club which seeks at its core to be inclusive, considerate and diverse, we are proud to support this social media boycott. We are united in our belief that it's simply unacceptable that people across English football and society more broadly continue to be subjected to discriminatory abuse online on a daily basis, with no real-world consequences for perpetrators. Bath City FC believes in the benefit of diversity and works hard to encourage accepting and inclusive behaviour across all of our communities. This boycott is one strand of effort that shows how we are keen to play a positive and constructive role within our local and virtual neighbourhoods. We are happy to join others to urge social media companies and the UK Government to act quickly to address this."
Please join with us to show that English football is unified and that social media companies must do more to eradicate online hate, while highlighting the importance of educating people in the ongoing fight against discrimination. We hope, that just as football takes a stand, the UK Government will act to enact an Online Safety Bill that brings in strong legislation to make social media companies more accountable for what happens on their platforms, as discussed at the DCMS Online Abuse roundtable earlier this week.