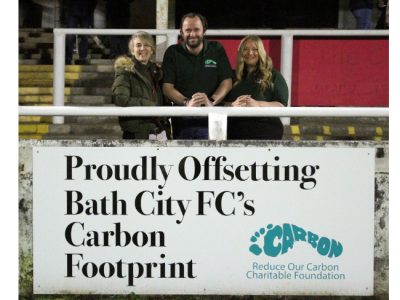 Bath City FC 'Shows Carbon the Red Card'
Bath City FC is working with Reduce Our Carbon Charitable Foundation to offset its carbon emissions. Through the funding of Reduce Our Carbon Charitable Foundation projects, Bath City FC will offset 36 metric tonhttps://reduceourcarbon.org/s of CO2 produced by the teams travel and stadium utilities over the projects' operating lives equating to 1800 trees planted. Bath City FC's offset will provide funds essential to the development of these sustainability projects.
Carbon Footprint Calculation:

Total no of trees required 50 x 36= 1800
Actual cost of planting £0.5 x 1800 = £900
The Bath City FC offset allowed 930 trees and 930 fruit trees to be planted. These were made up of 465 orange and 465 Mandarin trees equivalent to a 3,720 donation at 2 GBP per tree. For the total 1,860 trees at 20 kg of carbon offset per tree equalling 37.2 metric tonnes annually.
Jane Jones, Bath City FC Community Director said, "As a community owned club, we take our wider responsibility to have an impact beyond football very seriously. We're delighted that this new partnership with Reduce our Carbon Charitable Foundation will not only offset our carbon emissions but will support impoverished communities in Santa Lucia. We're proud that ROC are sponsoring our stand and together we hope to raise awareness of this vital issue and to "Show Carbon the Red Card".
Amanda Spicer, Founder & Trustee of Reduce our Carbon Charitable Foundation said, "We are delighted that Bath City FC are keen to play their part in offsetting their carbon footprint with us, and we look forward to working with them over the coming years as we "Show Carbon the Red Card" especially as the new sponsors of the Reduce Our Carbon stand at Twerton Park. The overarching purpose of the foundation is to help the move to a low carbon economy. This is achieved through connecting individuals and businesses that want to offset — in full or part — their annual carbon footprints by supporting low income rural farming communities that are keen to engage in sustainable tree planting initiatives.The community agroforestry models focus on harnessing all the benefits of trees, this allows communities to use their land in a sustainable way and generate additional recurring income from fruit crops. At least 50% of trees planted are fruit trees. The additional revenue can increase annual family incomes by 60% of which most live on approximately 1 USD per day. By calculating Bath FC's footprint from stadium utilities and coach travel we have been able to plant 1800 trees which make a huge difference to both the impoverished communities and the planet."
You can find out more about Reduce our Carbon Charitable Foundation here.