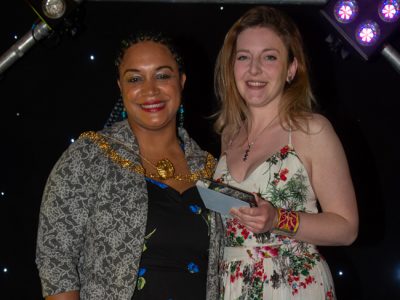 Bath City FC Community Director Scoops Award
Sally Harris, Community Director at Bath City FC, has been named as one of the West Women of the Year 2019 at a gathering of the South West's most inspirational women.
The event was created by Bath Chronicle publisher Reach plc and asked readers from publications across Bristol, Bath, Gloucestershire and Somerset to nominate inspirational women from their community. Sally picked up the award for Most Inspirational Woman in Sport for her efforts at Bath City FC.
In her role as the club's Community Director, Sally has developed programmes for underprivileged and under-represented groups across the community.
Every home game at Twerton Park has a community or charitable focus, with recent events including:
– Supporting BANES's Sugar Smart campaign, to raise awareness of sugar in food and drink, and its impact on health
– An event with the Stroke Association, which resulted in multiple referrals for both urgent and non-urgent medical advice
– The festive appeal for Bath Foodbank, which helped ensure people in our community did not go hungry over the festive period. Collection points in the bar and club shop enabled fans and the local community to donate key items. Our collection points remain open all year round.
– Future Bright, a service offering career advice and training to help people improve their job opportunities, boost their income or pick up new skills
Congratulations to Sally on her award.