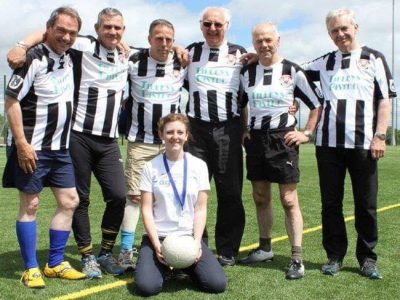 Bath City FC announces change in the boardroom
Bath City Football Club today announces that Sally Harris has stepped down from her role as the Club's Community Director due to family pressures. Sally has sat on the Board for nearly two years and before that on the interim shadow board for another year. Just last week she was named Most Inspirational Woman in Sport at the West Women of the Year Awards for her work with Bath City driving public health campaigns, sports engagement programmes, community career enhancement initiatives and more. Sally bade farewell to the role but promised to continue coming to matches, saying:
"It's been a real honour to be part of Bath City FC's transition to a Community Club, and it's a true sadness for me to be stepping away for the foreseeable future. Unfortunately I'm not in a position to give the role of Community Director my all at the moment so I am stepping down from the Board. Since becoming involved I have been hopelessly lured in by the charms of Twerton Park and its surrounding community, and I look forward to cheering on Jerry, Jim and the team from the terraces for many years to come. Thank you to everyone who has welcomed me into the Club community."
The Board of Bath City Football Club would like to formally acknowledge Sally's fantastic contribution to the Club and its community outreach over the past three years and thank her for everything she's done.
Following Sally's advice that she needed to step away from her role as a director, the Supporters Society and Board has sought an interim replacement to maintain momentum ahead of elections for two new directors later in June. We are delighted to say that Joy Saunders has now been appointed to this interim role following interviews with Society and Board officers. Joy brings with her an incredibly strong background in both finance and charities that has spanned organisations as diverse as the National Trust, JPMorgan Chase, Bristol and Bath Regional Capital and Julian House. On her interim appointment, Joy expressed her enthusiasm for the role in the short term and her hopes for the position if she's elected to the Board for a full two year term:
"I am thrilled to be offered the chance to work with Bath City Football Club, and build on the work that Sally has started. I am looking forward to emphasising the role Bath City Football Club plays in community life by strengthening community ties and collaborating with great initiatives around the City and beyond."