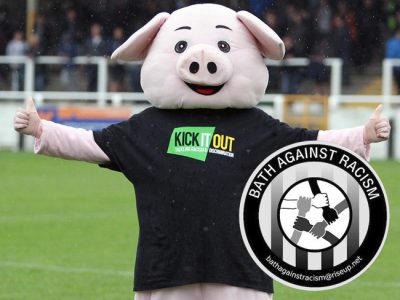 Bath City FC Announce anti-Racism Day
Bath City FC have nominated their upcoming league match against Dorking Wanderers on 26th October an "anti-racism day" and are organising a day of promotional activities around that theme together with Bath Against Racism (BAR), officers from Bath & North East Somerset (B&NES) Council and Fairfield House, the former home in of His Imperial Majesty Haile Selassie during his exile from Ethiopia from 1936 – 1941.
Carole Banwell, General Manager of Bath City said: "The overriding message of the day is one of solidarity with all anti-racism groups and zero-tolerance at Bath City of racism. We will be celebrating BAME culture through food and music as well as through footballing achievements, with a particular focus on the Laurie Cunningham story as told in the new play "Getting The Third Degree".
"Getting the Third Degree" is a compelling drama that tells the powerful and deeply moving story of Laurie Cunningham who came to prominence with West Bromwich Albion in the late 1970's. The first of the black footballing trio famously dubbed "The Three Degrees" – Laurie Cunningham, with his swaggering style and dazzling skills forced favourable comparisons with the legendary Pele. The first black footballer to sign for the mighty Real Madrid and only the second to win a full cap for England, he inspired a whole generation of young black players to follow in his pioneering footsteps.
The cast are currently rehearsing at Bath City FC ahead of a nationwide tour in the autumn and playwright Dougie Blaxland will be joined at half-time of the match by Ian McGlynn of the Rondo Theatre to talk about the background to the play, which was commissioned by football's equality and inclusion organisation Kick It Out.
Other activities on the day will include profile-raising appearances by BAR and Fairfield House – including a visit from Fairfield House's Imperial Voice Radio – and the team will warm up wearing Kick It Out T-shirts.
William Heath, Chair of Fairfield House Bath CIC is fully behind the initiative: "We totally support Bath City FC in maintaining zero tolerance towards racism, intolerance or extremism. Bath's most eminent resident spoke very strongly on racism, equality and peace, in immortal words made globally famous by Bob Marley and the Wailers in the song 'War'. In helping Bath City FC defend against racism we honour HIM's legacy to our city."
Before the match, officers from B&NES Council will be hosting a networking and hospitality event in the Romans Bar in the J.Reynolds (Western) Limited Lounge where invited guests from relevant interest groups will have the opportunity to meet and share ideas on promoting equality and tackling racism and other forms of discrimination in sport and other areas of life.
As part of its commitment to the issue and in recognition of Black History Month, B&NES Council has also launched an anti-racism creative writing competition for children and young people who live or go to school in B&NES.  Cllr Dine Romero, Leader of the Council said: "The council is committed to promoting all types of social cohesion in the city, and what better way to do this than by working in partnership with BCFC and other local voluntary and community sector organisations.  We really hope to 'kick off' some great conversations at the pre-match event – and look forward to our local young people's contributions to the competition too".
Bath City has also chosen that day for the formal launch of its new refugee season ticket scheme. Under the scheme the club, working together with Bath Welcomes Refugees (BWR) invites local businesses or individuals to buy reduced-price season tickets which are then given to BWR to pass on to local refugee families so that those families have the opportunity to regularly come and enjoy the football along with others in the community.
The day's events will be rounded off by a Bath Against Racism-organised music event in Charlie's Bar at Twerton Park. The Black and White club night will feature reggae, ska, funk, soul and R&B sets from the likes of Biggles Sounds (Bath Dub Club), Louie from Bath Soul Club, and Leigh Ingham. Clare Crestani of Bath Against Racism is excited for the day's activities and said of the Black and White Club Night: "We hope to see as many people as possible join us for the football in the afternoon and for a fantastic night of music. With the amazing guest DJs we have coming along, we know it's going to be a scorcher!"
Jerry Gill, Bath City's Manager added: "We as a playing staff and players fully support our Bath City Football Club Anti-Racism Day. We feel it is really important to embrace diversity within our group and value any player or staff member's contribution whatever their ethnicity or culture. By raising awareness through football we all have a huge part to play in stamping out any form of prejudice or racism whether it is on or off the field of play."