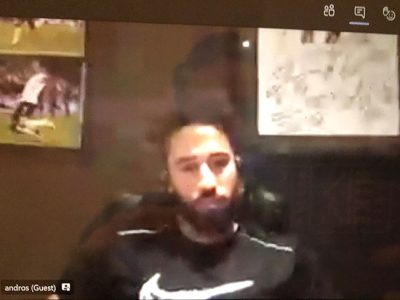 Andros Townsend in BCFC Foundation and Bath Mind talk
Last Thursday evening saw Bath City FC Foundation's Mental Health and Wellbeing group, together with Bath Mind, have an insightful hour with Premier League and England football player Andros Townsend.
Organised by Avon and Wiltshire Mental Health Partnership NHS Trust, the group from Bath was joined by friends from Swindon, Bristol and Weston-super-Mare to listen to Andros talk openly about his career.
He talked about how football was in his family's blood, his rise through academy football and making the step up to first-team action. This ultimately resulted in a call up to the England squad, where he scored and received man of the match on his debut. He took questions about teammates, the most difficult players to play against and favourite moments in his career. This gave us great insight and some laughs. Who knew Wayne Rooney was a great singer?
Importantly, Andros was also very open about his personal struggles as a young player in a new city, coping with an addictive personality and some thoughts on how best to cope with lockdown.
He was honest about community foundations and the importance of players using their platform to help others. A realisation he came to after almost losing it all himself.
It was a really rewarding session for everyone who attended and reiterates that no matter your bank balance or social standing, we are all susceptible to mental health challenges… just like a pacey winger is susceptible to pulling a cold hamstring (Andros told us about that as well).
Thank you Andros and thank you to the organisers. Great event.
Visit https://www.bathmind.org.uk/advice-and-support/resources/ for resources and links.