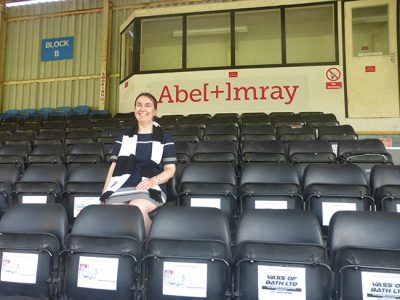 Abel + Imray continue stand sponsorship
Abel + Imray are pleased to be supporting Bath City FC for a third season with sponsorship of the Abel + Imray stand, and we look forward to watching some live football from The Romans in the coming months.
Abel + Imray are part of the fabric of Bath and supporting Bath City Football Club is one way that we seek to contribute to our community. Many of our colleagues live in Bath and the surrounding area, and a growing number are Bath City supporters. Abel + Imray have been present in Bath since the mid 1980's, protecting the brands and ideas of local and global businesses. We wish the club the very best of success for this season.
Bob Chester, the football club's Commercial Manager, added, "Bath City FC is delighted to extend our relationship with Abel + Imray for another season as we all look forward to having fans back at Twerton Park. Their support, in what have been challenging times for us all, is greatly appreciated and we look forward to seeing representatives from Abel + Imray on match days once again." 
The picture shows Caroline Brooks from Abel + Imray sitting in the stand in front of the press box in the Abel + Imray stand.
Abel + Imray are a firm of intellectual property (patents, designs and trade marks) attorneys with offices in Bath, London, Cardiff and Spain. They assist UK, European and Global businesses with protecting some of their most important assets – their ideas, innovations and brands.
For further information please contact John Austin-Brooks
01225 469914
John.austin-brooks@abelimray.com