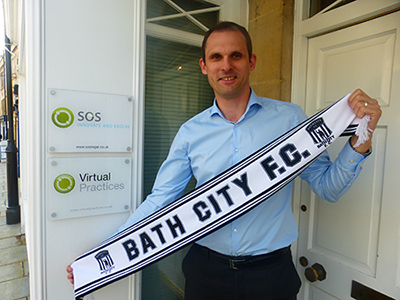 Welcome to new back of shirt sponsor Solicitors Own Software
Bath City are pleased to introduce Solicitors Own Software, who won second prize in the recent shirt sponsors draw and will have their company name on the back of the Bath City shirts for next season.
Managing Director, Graham Colbourne commented:
"As a Bath based business we are really pleased to be able to support our local football club. On a personal level, I was very proud to play for Bath and really enjoyed stepping out on the pitch in the black and white stripes, I'm really pleased to be able be involved with the club again and seeing our company logo on the back of the shirts will also be a proud moment for me"
SOS Connect is the flagship application of Solicitors Own Software (SOS) designed to underpin business process management in mid-tier firms and larger organisations:
SOS Connect aims to help progressive legal businesses compete more effectively in the new legal era.
Graham played centre forward for Bath City between 1997 and 2001 and was a firm favourite with the crowd. He has worked for SOS since 1995, when the business employed just seven people. In the subsequent years SOS has expanded and now employs 60 people.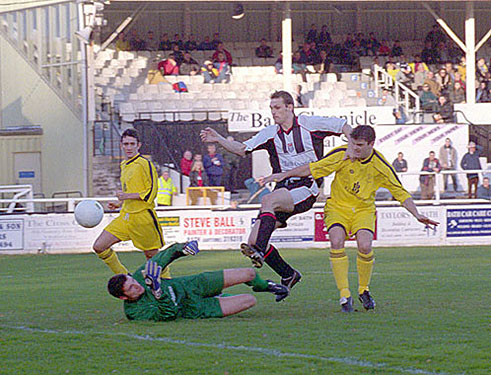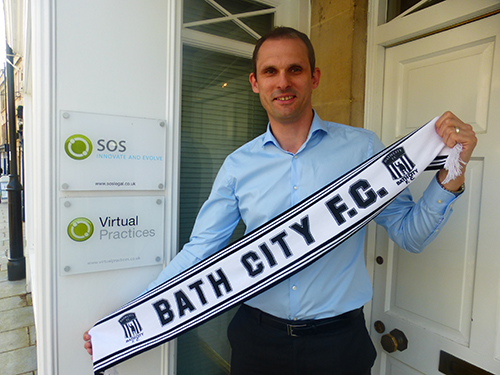 The photograph (on the right) shows Graham outside the offices of SOS in Widcombe Parade, Bath whilst the photo on the left shows Graham scoring one of his 65 goals in 183 appearances for Bath City, against Burton Albion, in November 2000.