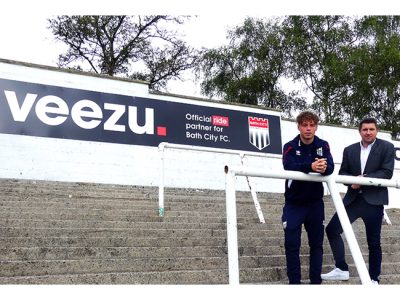 Veezu renews sponsorship of Bath City FC
The UK's fastest-growing private hire vehicle operator Veezu has teamed up with Bath City FC again for their 2023/24 season.
Bath City FC is a community-owned club run by volunteers and supported by fans and local businesses, such as Veezu. With crowds at a 40-year high, the club is looking forward to its next stage of development with the planned installation of a 3G pitch in 2024 enabling seven-days-a-week community use.
The partnership, going into its second year, will see the local ride provider continue to give fans the best possible matchday experience. A designated pick-up point will ensure fans can get home safely and easily, with booking points available in Charlie's bar.
Veezu will also introduce exclusive promotions for fans to help the local community and support the running of the club.
Barry Jenkins, Marketing Director at Veezu, said: "We're delighted to have renewed our partnership with Bath City FC for their upcoming season, helping the club continue to thrive and develop. With the 3G pitch being built next year, their investment into the local community parallels our own values, so we are proud to support them in any way we can."
Stewart Hyde, Commercial Manager at Bath City FC, said: "We're so grateful to be welcoming Veezu back for a second year as the club's official ride partner. Their sponsorship helps us continue to be at the footballing heart of our community and we're looking forward to a successful season on and off the pitch."
Veezu has recently launched a new version of their mobile app in the South West, enhancing the user experience by allowing people to skip call queues and book a ride in seconds.
Download the tap-and-go Veezu app here.
About Veezu
Veezu was founded in 2013 and is now the UK's fastest-growing taxi and private hire technology platform.
Veezu is the tech driven on-demand mobility service that supports hyper-local communities, helping them thrive.
In 2022, more than 10000 fully licensed Veezu driver-partners helped our hyper-local communities complete an average of one ride every two seconds.
The company has also made sustainability part of its business plan, investing more than £3.25 million in low-emission cars within the last three years.