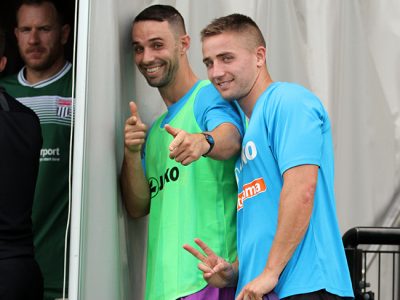 Vanarama Team-Mates: Ross Stearn takes us deep inside the Romans' dressing room!
League sponsors Vanarama have been busy opening the changing room doors… so what lies behind?
You can choose three team-mates to go on a long road trip with – who do you pick to jump in the car?
I am going to take Frank Artus, Dan Ball and Adam Mann – but also chuck Joey Raynes in the boot! Frank is the life and soul of any party, Bally is a loose cannon and Manny gives us someone to laugh at! Joey I couldn't leave him behind, he's got all the looks but the personality of a gold fish!
Which one of the team spends a lifetime in front of the mirror?
It is a tough one this but I'm going to have to go with Ryan Clarke, who narrowly beats the gaffer! Most nights out you think you've lost Clarkey but if you venture to the toilet he is sure to be stood in front of the mirror fine-tuning his barnet!
Who is a manager in the making?
Most likely to be a boss, I would say Frank. Natural leader in the dressing room and has a lot of respect from all of the players. Also fancies himself in our Fantasy Football League and is right up at the top most seasons!
Who is the dressing room joker at Twerton Park?
Adam Mann – no doubt. After his MOTM performance on our end of season tour last year he takes it. He has far too much time on his hands but is absolutely non stop with banter. Most of it is rubbish but it gets the boys laughing, whether it's with him or at him!
Which player turns lateness into an art form?
At the minute our Cornish Crew. Andy Watkins, Tyler Harvey, Connor Riley-Lowe and Alex Hartidge have been late to nearly every training session. To be fair they do travel 2-3 hours each time but as the team's fine master I enjoy it and so do the boys. Nothing beats getting a full car school walking into the dressing room late. Chaaa chingggg!
Who is the best trainer at Bath City?
Going on our Thursday sessions, Dan Ball. Centre half but plays upfront in the six-a-sides young vs old – and he always bags for fun!
Finally, who is the team's social media guru?
Adam Mann. He knows the news before it's even happened this lad! He was a roofer but spent that much time on his phone pestering Ryan Brunt he managed to wangle a job out of him. If he's not sending snapchats he's sending you tweets. And if he isn't doing that he's driving his boss Brunty around the UK in the Notmatec van!
Sponsors Vanarama have recently launched the Club Reward scheme to help fans back their club's budget. Every time a fan takes out a brand new van lease with Vanarama or a brand new car lease with Mototama their club will earn £100 and you will receive £30 cashback!
For the latest van leasing deals head to Vanarama.
For the latest car leasing deals head to Motorama.