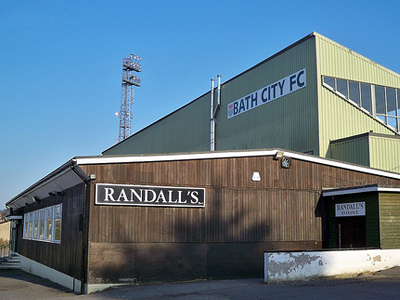 Twerton Park redevelopment prepares for next stage of consultation
Bath City FC and Greenacre Capital set to share initial designs  
People living in Twerton are being invited to view emerging design options for the redevelopment of Bath City FC's home ground.
The scheme will see the partial redevelopment of Twerton Park, providing new sports facilities, a community hub, affordable housing and improvements to Twerton High Street.
The proposals also include Purpose Built Student Accommodation.
The initial designs follow earlier input and consultation with the community, plus ongoing discussions with Bath and North East Somerset Council and after feedback from the Design Review Panel of the South West.
In April the Club, working in association with Greenacre Capital, invited people to attend drop-in sessions where they were able to share their ideas on what the scheme, particularly the community element, could include.
A series of initial design ideas will be shown on:
Wednesday 31st October, 2pm-8pm in Reynolds (Western) Limited Lounge at Twerton Park, High Street, Bath, BA2 1DB. (If disabled access is required please call 01225 423087 to make arrangements).
Saturday 3rd November, 12pm-3pm (before kick-off at the home game with Hemel Hempstead Town) in Charlie's Bar at Twerton Park.
Bath City FC announced last year that it was working with Greenacre Capital on a scheme which will help to secure its financial future and also deliver real benefits for the surrounding community.
Nick Blofeld, Chair of Bath City Football Club, said, "We want Bath City FC to be a central part of the Twerton community which is why we are engaging and consulting again on plans as they evolve. The overall economic viability of the scheme is key to ensure that Bath City FC can remain at Twerton Park. The Purpose Built Student Accommodation is an integral part of what makes the overall project work. The earlier events have been well attended and gave us useful input which has helped to influence the initial designs. The project team has had a busy few months coordinating this feedback, plus comments from Bath and North East Somerset Council and the Design Review Panel. We would like to thank everyone for their patience and ongoing support, especially as this stage has taken a little longer than originally expected. We would now like more feedback and we hope as many people as possible will come and see the next stage of the design. This is an exciting time for Bath City FC and a real opportunity to create something which Twerton and the wider city can be proud of. I would encourage anyone with an interest to attend the events and have their say on the future of their club."
All of the consultation information will be available to view at www.bathcityfc.com/twerton-park-redevelopment/
In the months following this round of consultation, Bath City FC and Greenacre Capital will unveil their preferred final designs for the redevelopment.