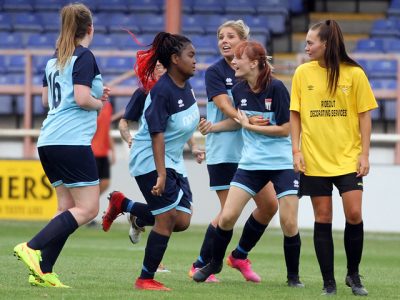 Twerton bow sees another 9-goal thriller
Sunday afternoon saw a highly anticipated debut lay ahead of Bath City Women as they took to the Twerton Park turf for the first time. Against them was a Bitton Ladies side with strong chemistry.
In the early exchanges, both sides showed a good blend of flair and tenacity and Bitton's sustained early pressure resulted in a simple opener. A shot from an acute angle struck the post and the rebound was tapped home.
The Romans provided an ideal response from the off, gaining corners in quick succession. The second of which met the boot of Emily Bristow. Setting herself well, she duly converted to equalise. Bitton regained the momentum following a Roman resurgence. A slick pass dispatched well to restore the advantage for the team in yellow. They moved over the centre line with purpose once more, a great long-ranger finding the top corner before six minutes later a smart pass was buried in for a fourth.
City No.9 Beth Edwards sprinted goalward and was denied a penalty following a light shove in the box. She came close again, hammering the crossbar and later having a goal ruled out for offside. Soon after the resulting free-kick, Annie Hervey classily planted the ball in the far corner to narrow the deficit to two at half-time.
Bitton probed well after City went on the offensive early as the second half opened up and the teams began to exchange chances.
Tara Taylor reacted brilliantly to intercept a goal kick. She made great inroads and fired in an impressive cross and, via a defender's touch, the ball found the net for 4-3. Annie Hervey, seconds after kick off, picked the ball up and let fly for an unbelievable shot from 35 yards to lift the crowd from their seats and make it 4-4. The game stayed close into the dying embers when Paige Owen-Jordan curled a free-kick forward towards goal. It found captain Taylor, but her effort was smothered by the goalkeeper but it bounced out invitingly for winger Emily Bristow, who chipped home to cap off a magnificent display and another match to remember for this growing team.
You can view photos from the game here.
Report by Oscar Lovell-Clark.