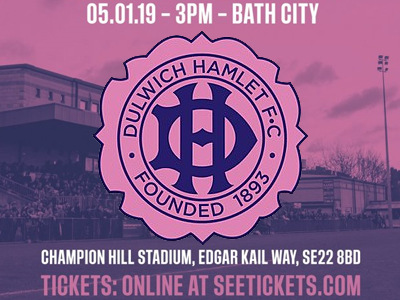 Ticket information for Dulwich Hamlet away match
City fans can purchase tickets for the away game at Dulwich Hamlet on Saturday 5 January 2019. The game will be one of The Hamlet's first back at Champion Hill so interest in the fixture is expected to be higher than usual. Although the game will not be all-ticket an initial batch of 1000 tickets are being made available to order online. There will be no segregation and City fans are welcome to buy online via the same method as home supporters. Depending on advance sales another batch of online tickets may be released and The Hamlet would encourage City fans to buy online regardless to avoid arriving at the ground and finding the tickets available on the gate have sold out.
Full information can be found by following this link http://www.pitchero.com/clubs/dulwichhamlet/news/dulwich-home-for-christmas-tickets-now-on-sale-2374372.html
Further details on tickets sales will be announced in due course.