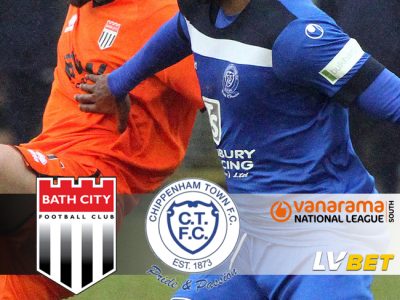 The Next Match – The A4 Derby Part II – Chippenham Town Home
The Romans welcome The Bluebirds for the second leg of our festive double header, hoping to go one better than Boxing Day when we came from behind to draw 1-1, with both teams ending with ten men.
The visitors didn't play on Monday, so remain six points above City having now played two games more. Last season's home leg saw City run out 3-2 victors in front of 1,397 fans. The atmosphere will be different this time, but let's hope for a similar outcome.
We wish you could be there on Saturday but, in the meantime, a Happy New Year from all at Bath City.
What – Bath City v Chippenham Town
Where – Twerton Park
When – 3pm, Saturday 2nd January
How to watch – Behind closed doors – Stream for £6.99
Season ticket holders can watch for free using the same password that was sent to you for the Hungerford game.
Please register early for the live stream. Streaming performance has been consistent since we changed providers, but people occasionally have problems registering, so the earlier the better to help resolve issues.