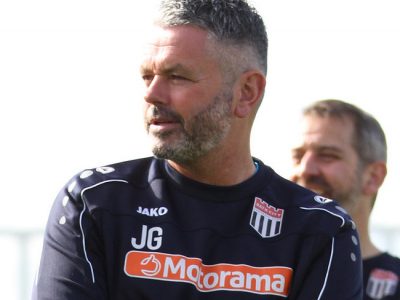 The MANarama Big Interview: Jerry Gill knows a magic moment when he sees one!
League sponsors MANarama check in with the Romans boss to discuss the season so far in a special feature.
Jerry Gill can pin-point the moment when he turned around to his coaches and substitutes and made what could end up being a season-defining prediction. He hasn't got a problem with neck-on-the-line statements. The cut-throat business of football management needs such to-the-point statements.
"That was the most difficult period I have faced as a manager, it was a real challenge," he explained "You don't start questioning yourself but frustration does set in. You do over-think things at times but you need good people around you and you need to stand by what you are doing. It was the 94th minute equaliser against Maidstone United which I felt actually turned things. I remember when we were awarded that late penalty I said to the others on the bench that this moment could change the season. We were on a rotten run and we needed something to spark us. Maybe that game was our Torquay of last season. When the belief just kicked in. We came together massively that game. Since then, things have actually gone just like I predicted! The hope is now that we keep not only results going like they have been, but performances as well."
Four straight wins, excellent displays against St Albans City, Dorking, Dulwich Hamlet and on Saturday against Concord Rangers has got things going. Jerry was shocked to hear his side now have the second best defensive record in the division – but there's a reason behind his surprise.
"We're in a good place currently, but the ambition is really straight forward actually. All I want us to do is improve on last year. If it's a point or one place higher, that's improvement. If we achieve that and ultimately it's not enough, then we have to accept it – as long as we have move forward. It's all you can go one better than the year before it's all I can ask. We are an honest and patient club. If fans can see we are going in the right direction and getting better year on year then they will be happy. We've got the second best defensive record in the division and I'm actually surprised to be honest, totally surprised," he said. "Not because I haven't got total faith in our defenders. You have got to remember we lost two in the summer, Robbie Cundy to Bristol City and Anthony Straker to Havant. Then in our final pre-season friendly we go and lose another to long term injury! I didn't think we would be as strong as we were defensively last season, but according to the stats we are. It helps when you have got a goalkeeper who is the bedrock of the team in Ryan Clarke – he has been as outstanding, as he was last year."
But the manager knows big league tests await. It's Havant on Saturday followed by improving Dartford – then leaders Wealdstone.
"It's these type of games that you want to be involved in," he added. "Havant have a squad good enough to be in a division higher but as everyone knows that doesn't mean a thing. Paul Doswell always puts good teams together, whatever the season. They are hard to beat and his squads carry a lot of strength in depth. It's a big test of our character coming up but after the last three weeks we have shown we aren't going to just roll over."

ONE SIMPLE TEXT CAN BOOST THE MANARAMA CAMPAIGN!
Getting involved with the MANarama campaign as we try to combat Prostate Cancer could not be more straight forward.
Give… donate to Prostate Cancer via text
Go… then bring others into play by sharing on social media with #GiveAndGo.
Donate by texting "MAN £10", "MAN £5" or "MAN £3" (depending on the amount you want to donate) to 70004 & help stop prostate cancer from being a killer. Texts costs £10, £5 or £3 plus network charge. Prostate Cancer UK receives 100% of your donation. Obtain bill payers permission. Customer care 0800 082 1616. Charity No 100554
FREE MINIBUS FOR YOUR CLUB
To say thank you to the incredible fans and clubs of The National League for supporting our MANarama campaign in aid of Prostate Cancer UK, we're giving a FREE minibus away to one club.
When your club hits £500 they go into the hat! Find your club's page here:
http://justgiving.com/campaign/Manarama
Massive thank you to the clubs that have raised the most so far.
For the latest van leasing deals head to Vanarama.
For the latest car leasing deals head to Motorama.