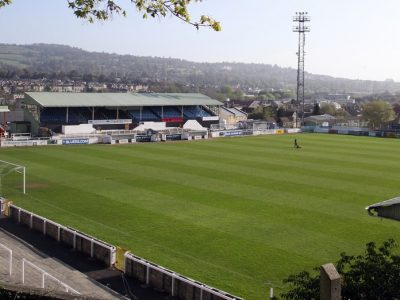 The Bath City FC Board recommends voting 'Yes' to the 3G motion
The Bath City Supporters Society has invited members to vote on the following motion at an EGM on 25th April, by post or online:
"Bath City should immediately and provisionally pursue replacing the Twerton Park pitch with a "FIFA Quality Pro surface" subject to the conditions in the feasibility study being met. This would include a clear and sustainable plan to secure capital funding."
The Bath City FC Board is urging members of the Supporters Society to vote 'Yes' on the following grounds:
Financial Sustainability
Bath City FC has run at a loss for most of the last twenty years, propped up by loans and donations from individuals. This has led to debts in excess of £1m and the urgent re-financing of the Club via the Big Bath City Bid which was completed in May 2017.
Although the new Board and management team have driven increased revenues, the Club is still anticipated to make a £80k-£100k trading loss, without there being the prospect of significant additional revenues to wipe out that deficit. Whilst we hope that the partial redevelopment of the ground will bring new, and ongoing revenue streams that may fundamentally change the business model, we cannot yet be certain of that, nor can we be certain of securing planning permission to go ahead with the redevelopment. Therefore, we have to pursue other ways of closing the funding gap.
The conclusions of the 3G Feasibility Study indicate a likely trading profit, with conservative pitch usage, of £65k per year, aside from any ancillary benefits of increased attendance, food and beverage sales etc., and net of setting aside money for maintenance and replacement.
This is a fundamental change to the Club's business model, and one that is independent of commercial sponsorship or performance on the pitch.
Becoming the true home of the Bath City family
A FIFA Quality Pro pitch would transform Twerton Park into the living, breathing home of the whole Bath City Family. Imagine the following:
100s of Bath City Youth's young players from 6-16 years training and playing at the ground every week.
Our U18 Academy, run in conjunction with Bath College, having their coaching sessions in Twerton.
Bath City FC Community Sports Foundation running coaching sessions for marginalised and youth groups on Bath City's own pitch.
The University of Bath/Bath City FC Development Squad training and playing at our stadium.
A Bath City Women's team training at Twerton Park and representing our Club in a league from our home base.
Currently it would be impossible to do all of these things on our grass pitch – but we could do all of them if we install a FIFA Quality Pro surface. We'd cement the connection between all those players wearing our shirt and Twerton Park itself, and that can only help build the Club's community, fan-base and revenues.
Imagine – Bath City Stripes on the pitch seven days a week, with players of all ages and backgrounds part of our Club.
Wider Community Engagement
Above and beyond football players already aligned with Bath City FC, there's a whole host of people and organisations in the city that want to play football on a quality surface. A FIFA Quality Pro pitch would allow us to work with local schools, charities and non-aligned youth football teams.
All three of the non-league clubs visited by the 3G Feasibility Study Team were enthusiastic about the impact:
Sutton United FC: ''the 3G pitch brings the community into the club every day, seven days a week and generates huge goodwill in the town. More people feel connected to the club, more people get involved in the community facilities, more children join the club, play at the stadium, become supporters, bring along their friends. It's a virtuous circle''
Maidstone, Merthyr and Sutton cited a consistent list of organisations they're able to embrace thanks to their 3G pitch, ranging across: schools, community groups, children's holiday football schools, charity events, disability football, mental health groups, walking football, special needs groups, girls' football, fitness and inclusion programmes, and health awareness programmes.
None of this currently happens on the pitch at Bath City FC, but all of it could do with a FIFA Quality Pro pitch.
The view of our manager, Jerry Gill
"As the first team manager at Bath City FC in an ideal world with more financial resource I would of course like to see a good quality grass pitch with a level playing surface and modern irrigation system in place. However this all comes at a huge cost which is disproportionate to the level we are currently playing at.
My main ambition and immediate target is to take Bath City FC to the next level within the pyramid system. We all agree and are aware that the club needs to create new revenue streams and something that could enhance this is the introduction of a 3G playing surface at Twerton Park. From a footballing side and point of view the surface would certainly complement the "Bath City Way".
I for one would love to be able to train the first team squad during the week here at Twerton as our home and base along with the rest of the Bath City family being able to use the facility from under 6's to the Academy and Development squads."
Final points to consider
Following changes to National League rules, Bath City can't go back to borrowing from wealthy individuals to subsidise losses. The new rules mean that any loans have to be unsecured and subordinate to all other debts – terms that very few, if any, lenders are likely to accept. So the model has to change.
Creating the possibility of a true community club with a 3G pitch at its heart will make the redevelopment much more likely to gain planning permission. Without the redevelopment, we're back to where we were before the Big Bath City Bid and would once again have to contemplate selling the ground to clear our debts.
You can be assured a 3G surface will only go ahead if the next stages prove it's in the best interest of the Club and its fans. The Club Board is made up of nine members, with six directly elected by Society members, while the Supporters Society Board is wholly elected save for short-term co-opted members who have to stand for election within 12 months. Both boards are duty-bound to act responsibly and with financial prudence.
Recommendation
The Club Board wholeheartedly supports the project and urges you to vote 'Yes' to the Supporters Society motion and to enable the Club to work towards becoming a profitable, sustainable and community-welcoming Club, which we believe could be achieved by the introduction of a top quality synthetic surface at Twerton Park.
You can see the Bath City Supporters Society announcement here
The Bath City Supporters Society recommends voting 'Yes' – see the recommendation here