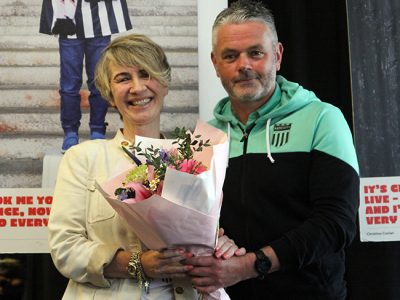 Staff News – Carole Banwell
We're sorry to say that Carole Banwell is leaving her role as Partnerships Manager at the end of May. Carole has been instrumental in modernising the Club, simplifying our operations and making the matchday experience much more enjoyable for everyone and during her time as General Manager our average gates increased from 630 to 1,100+. The growth of our commercial revenues is due in no small part to Carole's skill at building relationships with our partners across the city and she has been one of the most prominent faces of Bath City over the last six years, putting the Club well and truly back on the local map.
Carole is organising this year's Shirt Sponsors Draw, which takes place at the Club on the evening of Friday 19 May, straight after the conclusion of the Partners on the Pitch 6-a-side Tournament. Please come down to give Carole the send-off that she deserves. We will miss her.
The summer is a very busy time for the Commercial team as we seek to secure a number of our vital revenue streams, including hoardings, programme adverts and player kit sponsorship. Will Banks will be contacting our current advertisers and sponsors to discuss plans for next season.
Should you wish to explore opportunities to sponsor or advertise with the Club your contact for new business enquiries is Stewart Hyde.
Commercial team contacts:
Will Banks            William.banks@bathcityfootballclub.co.uk    07548 843138
Stewart Hyde      Stewart.hyde@bathcityfootballcub.co.uk     07540 110090