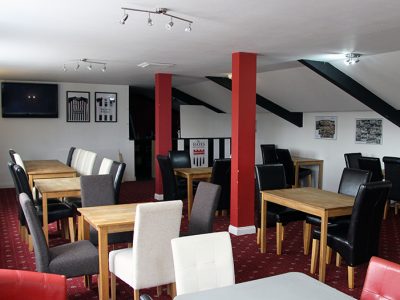 Space for hire at Twerton Park
While we're working hard towards the redevelopment (updates on the planning process soon) we still have space for hire at Twerton Park on a short-medium term basis.
We've already created successful arrangements with the likes of CrossFit, webuyanycar.com and Arcs and Sparks, as well as hot-desking arrangements with children's charity Action for Children, and are looking to work with other businesses and organisations.
Whether it's a 7m x 3m self-contained private office, hot-desking in the two larger hospitality lounges (15m x 7m & 12m x 7m), or a variety of safe storage solutions, we'd love to help.
AND we have superfast fibre broadband (up to 300MB) – plus parking!
If you know of any organisations or individuals who might be interested in setting up here for short or medium-term arrangements, please don't hesitate to call our General Manager, Carole Banwell, on 01225 423087, or info@bathcityfootballclub.co.uk.