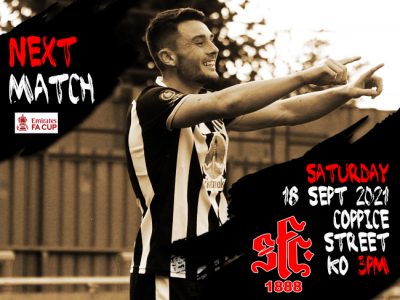 Shaftesbury FC v City Preview
Bath City start what will hopefully be a long run in the FA Cup on Saturday when they visit Shaftesbury in the 2nd Qualifying Round.
While we have faced six Dorset clubs during our long history in the competition this will be the first time we have crossed paths with Shaftesbury who currently play three levels below in the Wessex Premier League.
Founded in 1888 this is only the second time the Dorset club has reached this stage of the competition, the last being some 112 years ago. In earlier rounds they won through against Amesbury, Stoneham and Highworth Town. The latter play in the Southern League but failed to make home advantage count and lost 4-2 in a dramatic replay last Tuesday.
Last season City fought their way past Winchester and Swindon Supermarine in the Cup before falling to Havant & Waterlooville in the 4th Qualifying Round. Their record at this stage of the competition is good with only one defeat in their last twenty appearances and the last time they faced opponents three levels below was in 2017 when they breezed past Knaphill at Twerton Park.
However there should be no room for any complacency on Saturday as older supporters will point back to painful defeats at such lowly clubs as Frome, Wimbourne and Falmouth. While the Club boasts a proud history in the Cup, the 1st Round has only been reached four times in the past 25 years, the last occasion being ten seasons ago.
The Cockrams ground is near the town centre and has been Shaftesbury's home since 1974. It has a capacity of around 1000 and a 3G pitch was installed over the summer.
Admission prices for the match have been set at £7 for adults and £4 for concessions.
At 34 miles, the journey will take just over an hour by road and you can book your seat on the Supporters Club coach here.
Those intending to use public transport may want to think again as it will involve a journey taking up to three hours! Shaftesbury is a hill top town and not linked by rail so having changed trains at Salisbury for Gillingham, the final approach will require a bus or taxi.
Despite this City supporters always travel in big numbers for Cup matches and their support will be vital on Saturday to help the team progress.